Schnitzel King Restaurant newly re-opened in Thongsala Town Koh Phangan Island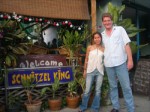 Freshly re-opened since a couple of weeks is the new Schnitzel King Restaurant in Thongsala main town here on Koh Phangan Paradise Island.
Once located shortly after Baan Tai the Schnitzel King has decided to move into Thongsala city just next to the Kodak shop on the Post Office road. The new restaurant and bar are well done and his garden terrace is the perfect spot to escape from the city activities. Here one has found a safe place to relax and have one of those fantastic German Weissbier like 'Weihenstephan' or 'Erdinger'.
The menu at Schnitzel King restaurant offers Schnitzel, Schnitzel and Schnitzel again in all its different variations. Like 'Jägerschnitzel', 'Gratzer Schnitzel', 'Paris Schnitzel', 'Classic Schnitzel' and not to forget the 'King's Special'! So far Becki has tried a couple of them and they all taste delicious 😉
Also on the menu is one of my most favorite sweets called a 'Kaiserschmarrn' and this is something also you should at least try once in your life! So don't hesitate a second and say hello to our new Schnitzel King in Thongsala main town 😉