Koh Phangan Paradise – Happy memories from a distant past ;)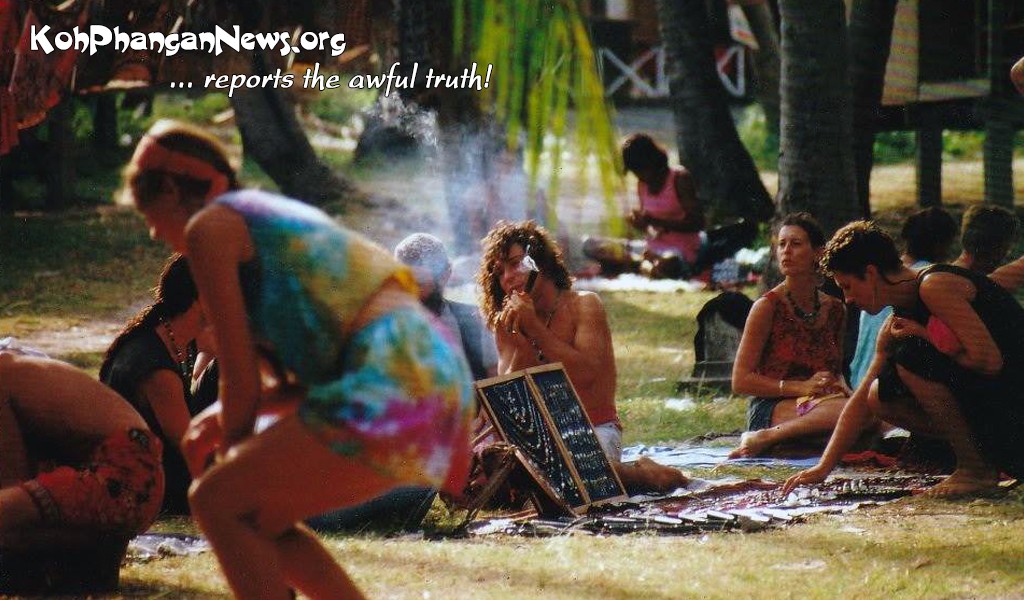 Lovely Koh Phangan – My name is Eddy and it was the winter of 1988/89.
I was sitting in an old, pretty fucked up guesthouse in Freak Street Kathmandu, when I first heard about "Koh Phangan".
All my way through India, up to the Pokhara Valley and back, I got haunted by the name "Koh Phangan". Everywhere I went backpackers were all talking about this little paradise called "Koh Phangan".
We have been travelling in India & Nepal all winter and back in the days India was deep and firmly in our hearts. Though, we didn't know yet about a beautiful country called Siam, better known as Thailand.
After two months travelling the Indian mountains our appetite for white sandy beaches and crystal clear turquoise waters grew big and bigger. Our visa application for Bhutan got just denied and the name "Koh Phangan" was still and always present.
Everyone still seemed talking about "Koh Pha-Ngan"! That little island, which doesn't seem to exist? Perhaps some last kind of Robinson Crusoe Paradise Island on planet earth?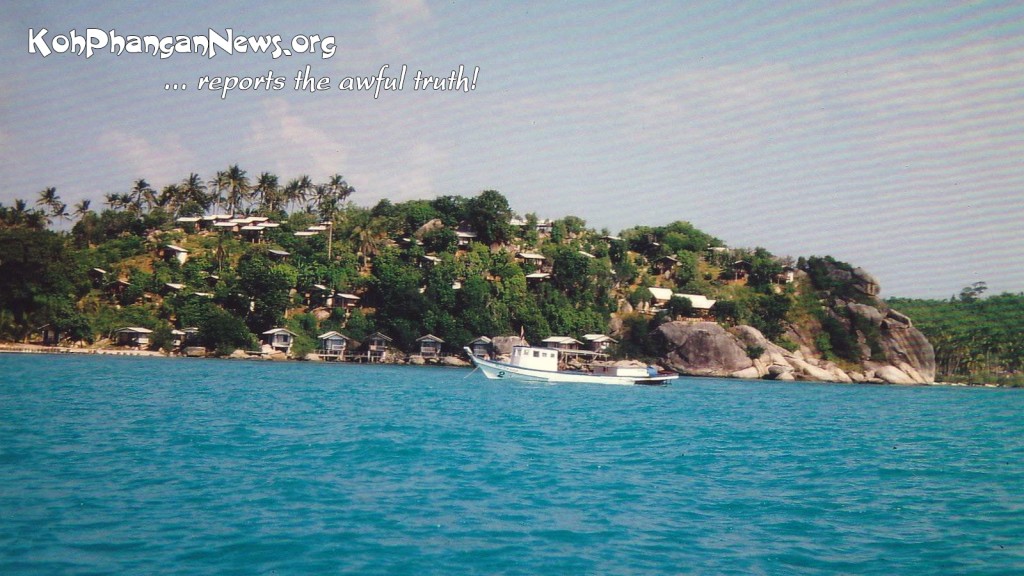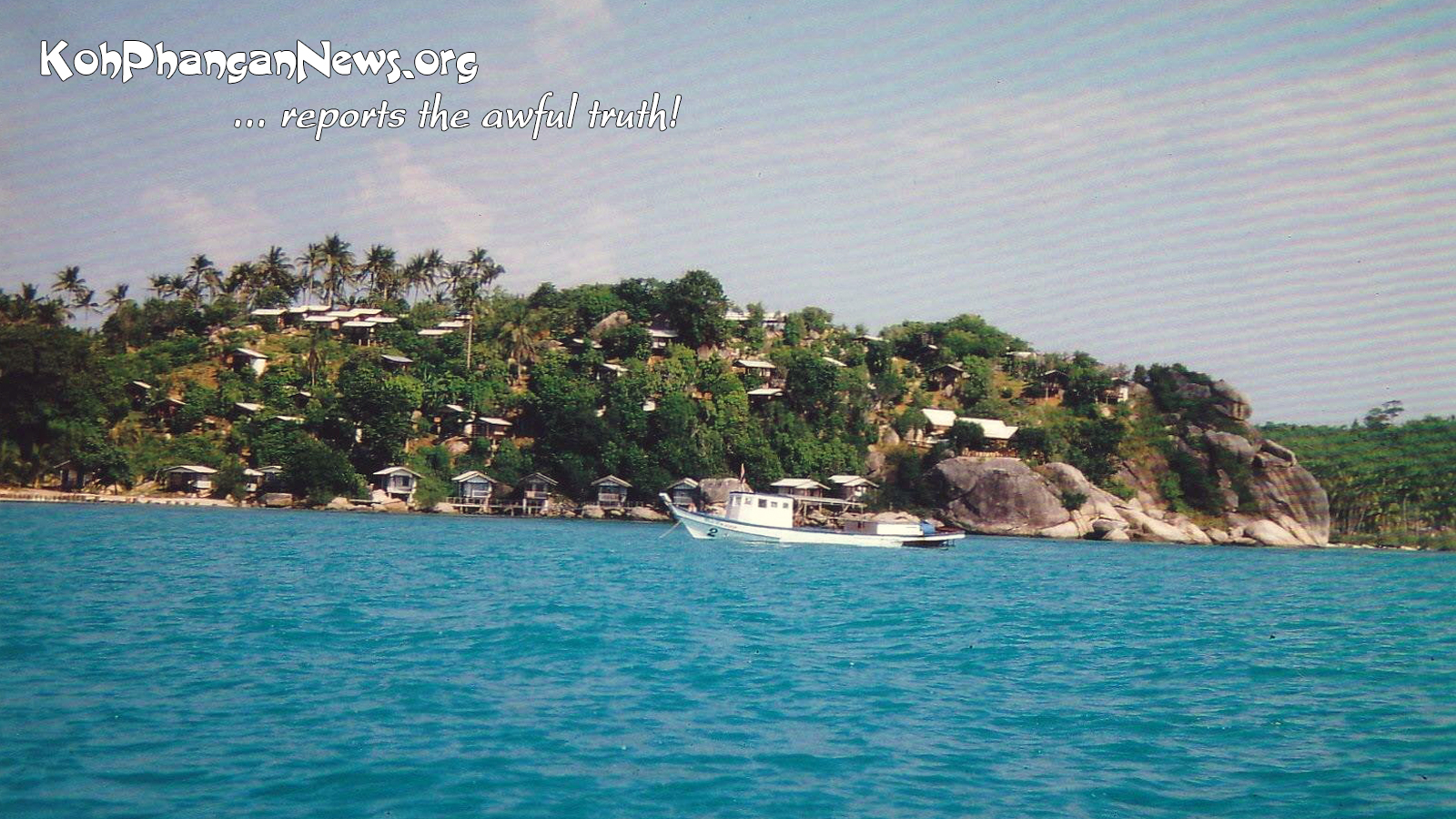 After three days of constant and continuous rain in Manali we decided to fly to Thailand and jumped into a broken bus to New Delhi. After a few days of the usual bureaucratic madness we got our Thai-Visa and took a flight with Biman Bangladesh Airlines to Bangkok.
Today I wouldn't even send my luggage with that airline, but 25 years ago it was fun 😉
After arriving in Bangkok our first impression was: WOW! What sort of place is this! Being used to Indian standards for quite some time, everything looked so clean and organized.
Khao San Road was a backpackers Mecca back then! I've seen similar things at Freak Street in Kathmandu and Colaba in Mumbai, but here everything was definitely different. So many people from so many different parts of the world, it was stunning and we were pretty impressed 😉
At a bar in Khao San road we met Hans on his way back to Germany. He gave us many useful tips and insights and also his Thailand travel guide book. Our journey to Koh Phangan Paradise has just begun!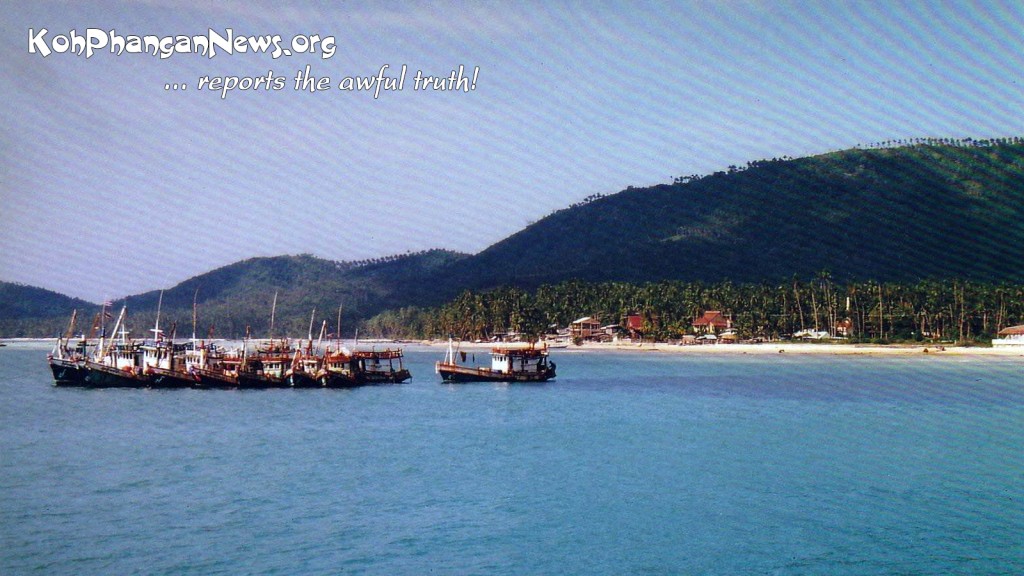 After a long, long bus journey we arrived at totally flooded Surat Thani on the mainland and had to wait for another long hours to get a boat to Koh Phangan. As the sea was rough with big waves our boat ride took an unexpected stop at neighbouring Koh Samui Island.
We were fascinated! That was how beautiful Koh Samui was at that time, 25 years ago. We already thought we had arrived in paradise. Little did we know 😉
After a few days exploring Koh Samui island we finally had managed our final onward journey to Koh Phangan Paradise.
Back in 1989 only a few boats made the trip to Koh Phangan per day. We took our boat ride from Bophut Pier and I think you couldn't even call it a boat. It was more like a nutshell. Water found its way into the boat from all sides and two little boys were constantly engaged getting all the water out again.
But it all simply felt so funny 25 years ago 🙂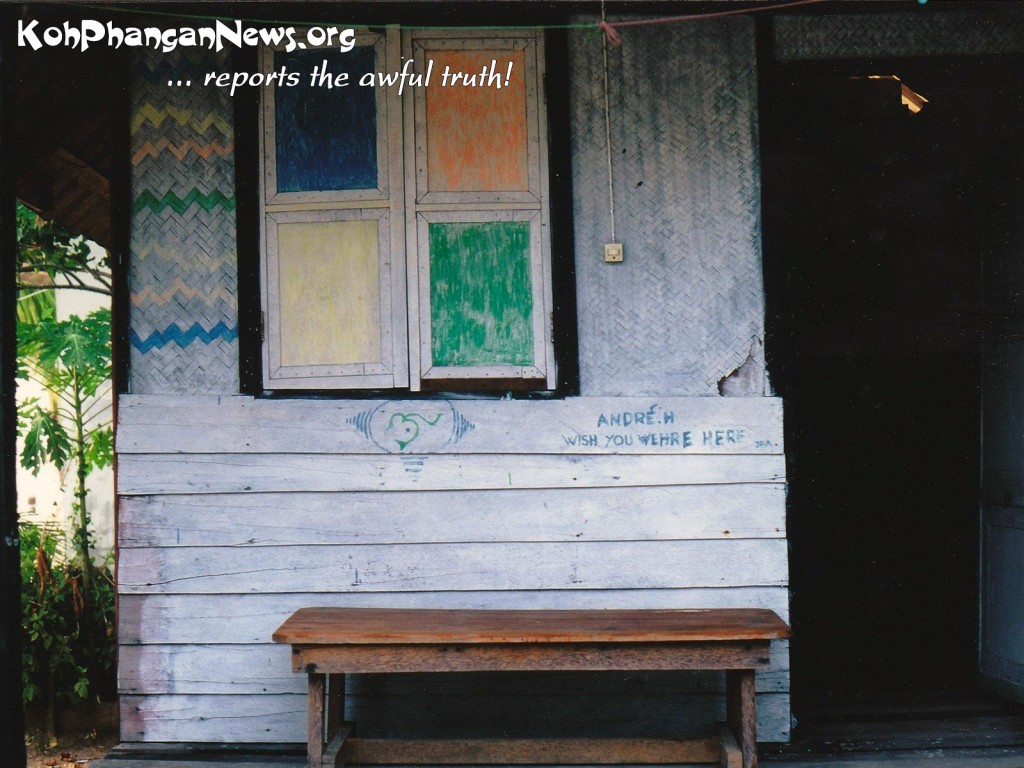 Arriving at Had Rin pier, there were a few local Thais looking for customers for their bungalow resorts. We decided for Dolphin Bungalows just next to the pier for 120 Thai Baht per night, which seemed to be the best one available at that time.
There were only half a dozen bungalow resorts at Had Rin beach during that time. Can you imagine that?
The next day, a few meters down the road, we discovered Laidback Bungalows for a very affordable 30 to 80 Thai Baht and finally made that our island home.
What a paradise! We finally had arrived on lovely Koh Phangan Paradise Island!
There were two small jungle paths connecting sunrise and sunset beach. There was not a single motorbike at Had Rin beach and the only engine noise you could hear came from electric generators from some bungalow resorts or fishing boats transporting tourists from or to Thongsala or other beaches.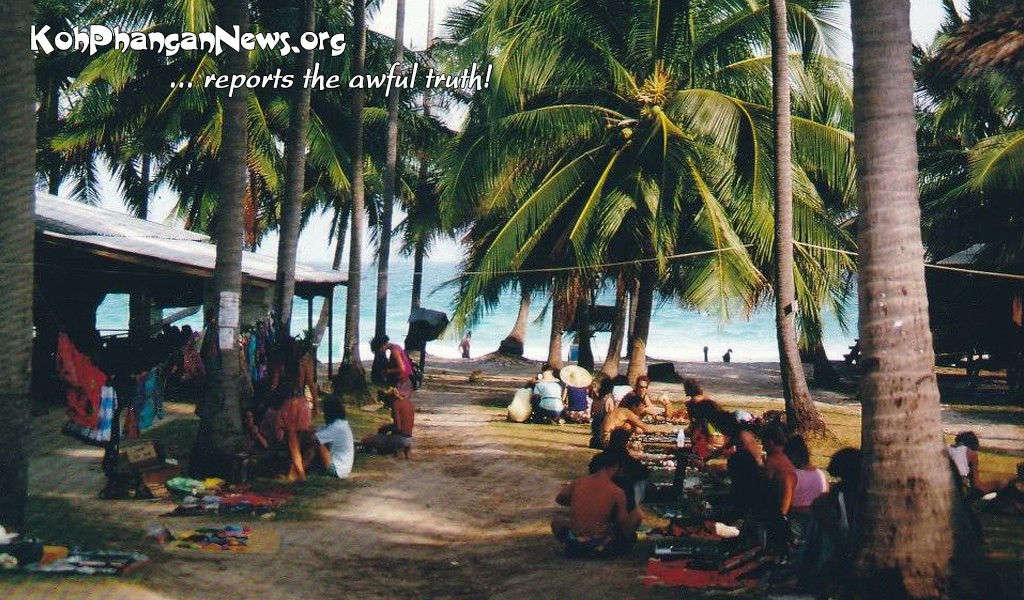 Then there was this nice hippie style flea market at Thommy Resort during the afternoons. Next to Thommy Resort, on the grassland to Bayshore Bungalows, hippies from all over the world, on their journey from Goa and Kathmandu, over Koh Samui and Koh Phangan, to Indonesia and Bali, had a laid back gathering, selling their latest hand made jewellery, art or clothes. Perhaps … maybe … sometimes … also smoking a chillum or two 😉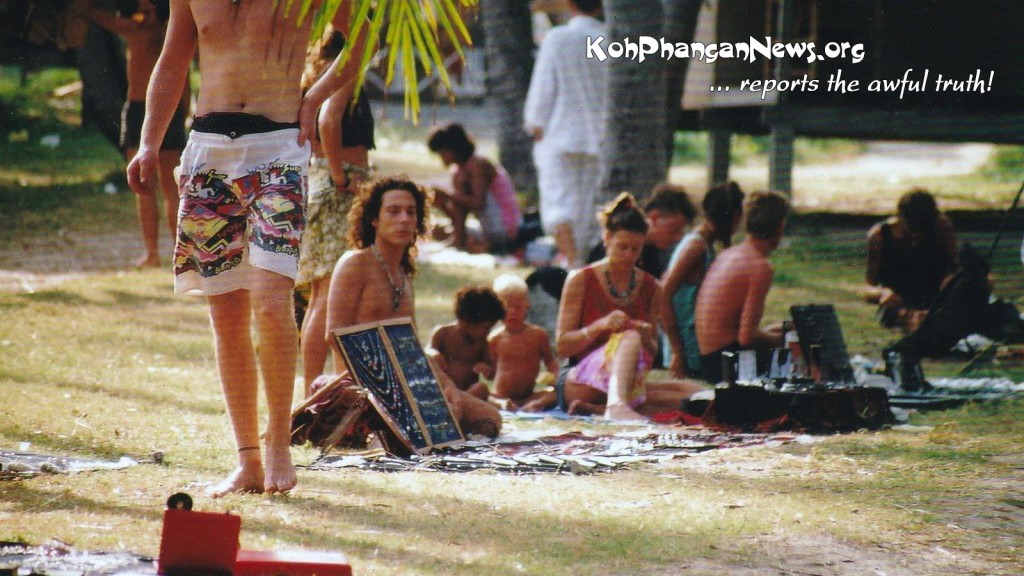 Even at sunrise beach there were only a few bungalow resorts available in 1989. I do remember Palita Lodge, Mountain Bungalow, Thommy Resort, Bayshore and at the other end of the sunrise beach Paradise Bungalows, where the first Full Moon Parties were held.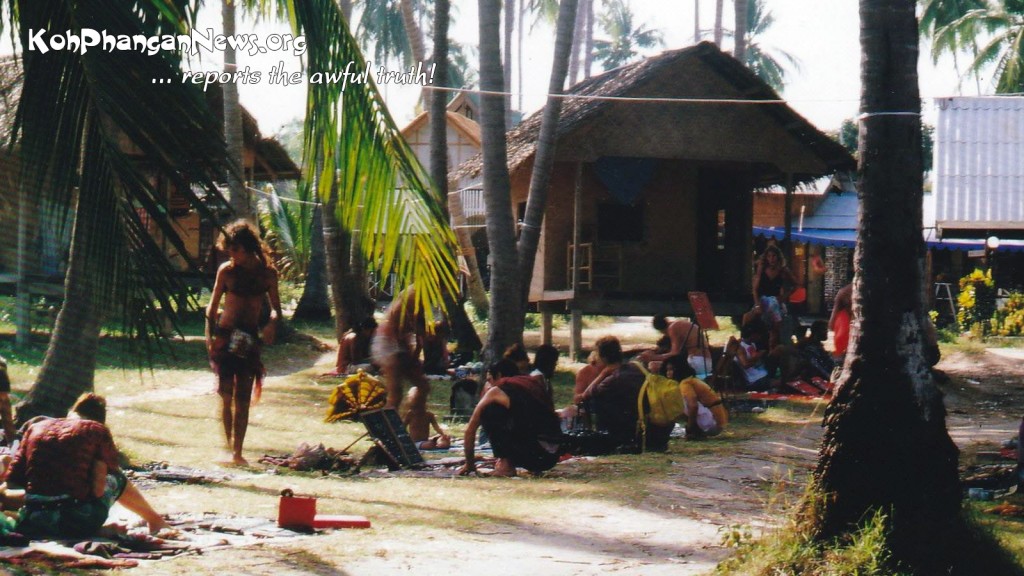 The atmosphere was really more than relaxed. People enjoyed smoking some weed or sharing a chillum, tripping on magic mushrooms and playing music while hanging out at the beach.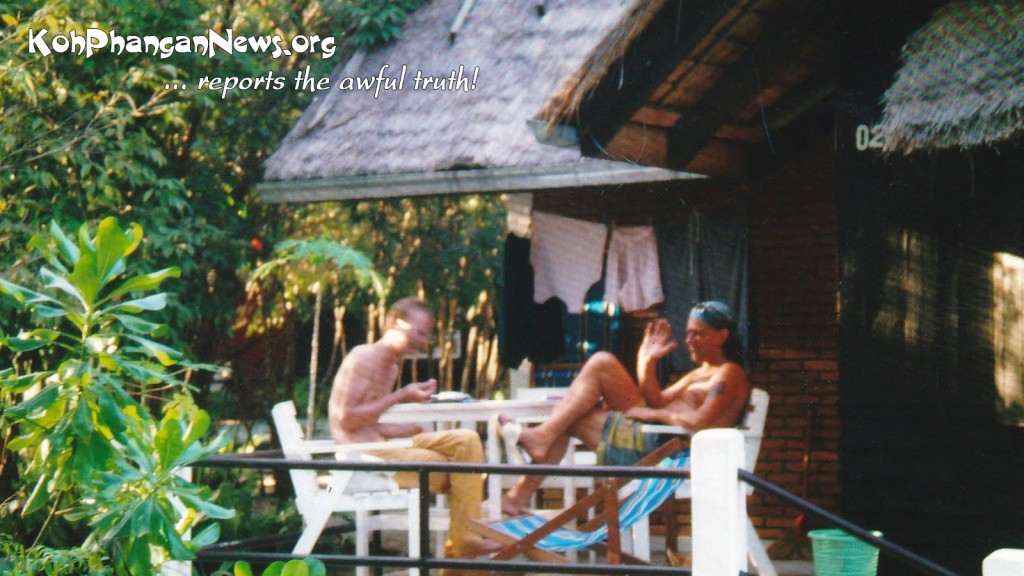 At the Chicken Corner you had a few tiny shops selling food and stuff for your daily needs.
Down that jungle path to the pier at the sunset side, next to the Outback Bar, there was a tiny fish restaurant, which is now known as the Lucky Crab Seafood Restaurant.
There were no concrete roads at Had Rin and you could only reach Hadrin beach by long tail boat. Thongsala could only be reached directly by boat or via Ban Khai village and then take a motorbike taxi through the jungle to Thongsala village.
As far as I can still remember … the only phone available on the island was located next to the old post office in Thongsala village. It looked like a missive concrete brick with a 2 meter antenna. Weighted an estimated 10 kg and 3 minutes to Europe cost you 20 $ US.
Things were good back in those days 😉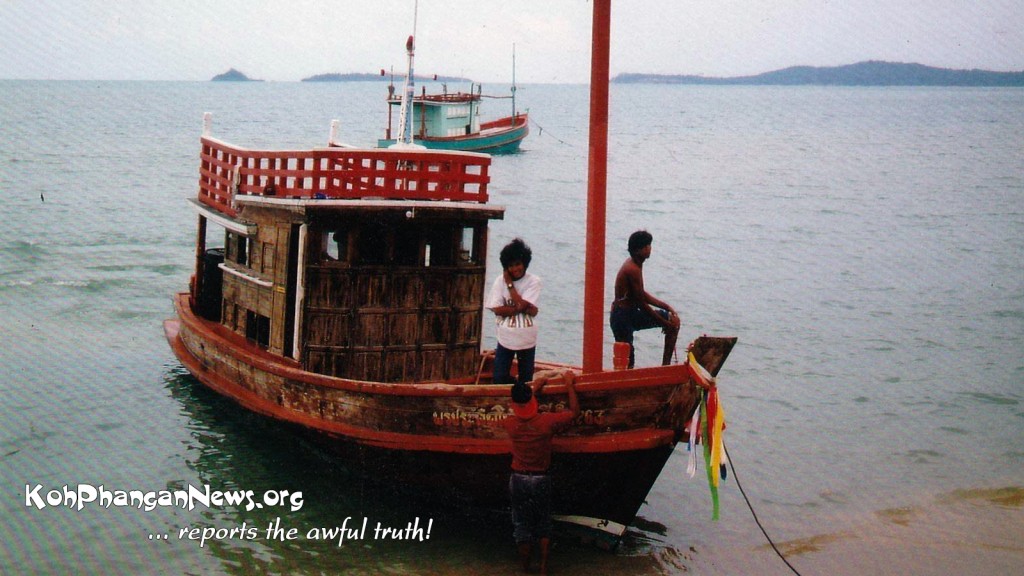 The first person I met on Koh Phangan Island was this tiny & little Italian guy driving around Had Rin beach with his bicycle selling delicious Italian pizza. "Pizzeria Pino" was written on his bicycle and while enjoying a nice sunset together Pino told me that he arrived during a full moon night by accident on the island.

Then Pino simply fell in love with the island and its atmosphere and since then he never left. Pino is still living up to this day at Haad Rin beach Koh Phangan.
Other friends left over time, others died on the island. Puddy from Outback Bar, Marc London who worked quite some time at Nira's Backery. Or that other woman from Munich, whose name I can't remember and was living at Thommy's Resort for quite some time.
Isi from Spain also has moved to Ban Tai village not far away from where I live now. Ara, our island guru, also left Koh Phangan a few years ago and is now living somewhere in Europe. Uli from Germany, our mind altering substance senior expert, also left the island many years ago. He was quite sick, as I do re-call?
Elena is finally fed up with the new generation of people arriving on Paradise Island and doesn't show up that often anymore.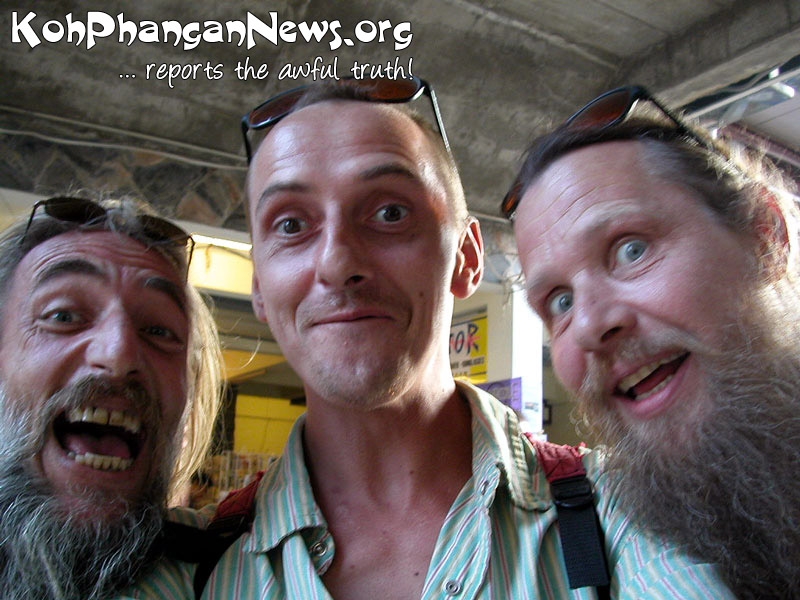 But it was such a great time back in those days! Nice people … nice locals … PURE RELAXATION!
Today all is different! Hustle and bustle … hectic pure! The people on Koh Phangan are stressed and the traffic has increased enormously. There are daily accidents and the charm and atmosphere of Magic Koh Phangan Paradise is slowly but surely dissolving ;(
I still do love this special place but it's getting more and more distant each time I go and visit my little and lovely Koh Phangan Paradise Island.
But I'm so glad and thankful that I could be part of it!
Thanks & Greetings
Eddy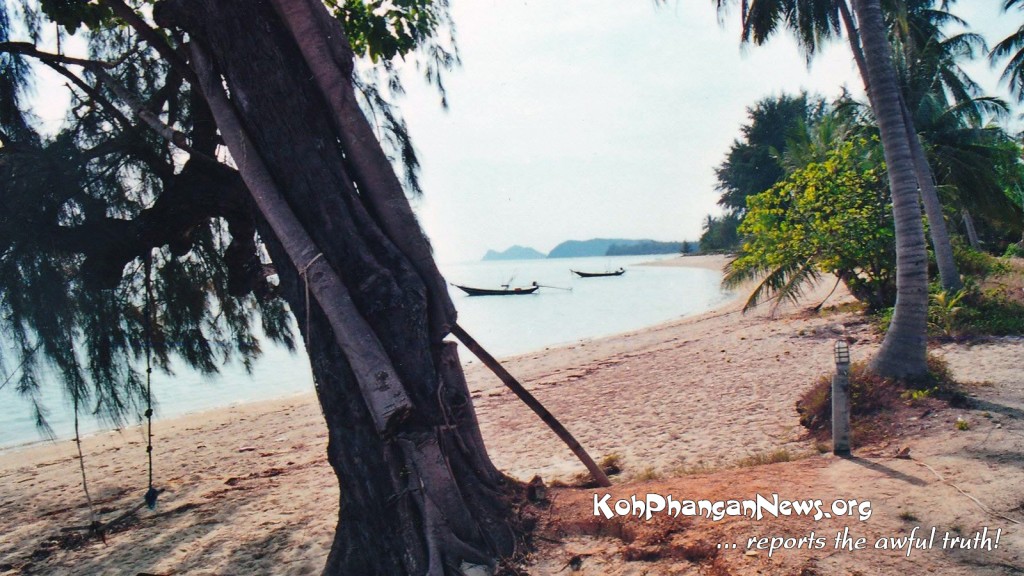 p.s. 25 years ago there were no smart phones, no internet! But you had those magic things called message boards, where you could leave a message for friends to pick up. You could find those message boards at the Chicken Corner, Post Office in Thongsala, Baan Nathon on Koh Samui, Bangkok, India, Nepal … nearly everywhere!
So, we once met this French couple in India and planned to meet again in Thailand and therefore left messages on the pin-boards all along our way. Bangkok, Koh Samui, Thongsala, Chicken Corner …
And one day, while relaxing in the hammock, I heard a familiar voice asking for me. I was stunned! I couldn't believe it! In front of me was Kurt, a guy we met in Poona in India a few years ago. He read our messages we left for the French couple on the board in Baan Nathon on Koh Samui and decided to give us a visit on Koh Phangan. Pleasant surprise! Fantastic times!