Triangle Lodge Bungalows & Accommodation at Baan Tai Beach Koh Phangan Island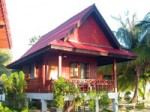 Triangle Lodge is located close to Baan Tai village at the south coast of Koh Phangan Island. Situated amongst the shady palms on tranquil Baan Tai beach, Triangle Lodge has been making its guests feel part of the family for over a decade.
Their spacious and beautiful gardens provide the perfect setting for you to relax and unwind in this desert island paradise. The resort is conveniently located in between Thong Sala and Had Rin, near the fishing village of Baan Tai on the serene south-east coast of Koh Phangan.
The bungalows at Triangle Lodge are generously spaced on the long beach of Ao Ban Tai, making it easy to find solitude; Triangle Lodge have a total of 16 well-maintained and spacious bungalows, tastefully decorated with sunset sea views over Koh Samui Island. All bungalows at Triangle Lodge have bathrooms with Western fittings and come in a range of styles and prices to suit every traveler. The bungalows come with a choice of sleeping options, with either double or twin beds available. All of the rooms are just meters from the beach and are set amongst wonderful tropical gardens with manicured lawns and romantically lit paths.
The Triangle Lodge Restaurant is well known to be one of the best on Baan Tai beach, serving exquisite Thai and Western cuisine at affordable prices. The extensive menu covers everything from shark fish steak to pizza, and the restaurant also specializes in a variety of traditional Thai dishes, rarely seen on other menus. A tantalizing daily selection of fresh seafood is available and regular beach barbecues provide a great way to mix with other guests.
If you're interested in any accommodation available then please don't hesitate and send your email to trianglelodge@hotmail.com! Thank you & wish you a nice day 🙂