Sunday Roast & Sunday Blues at Tranquil Resort Koh Phangan Island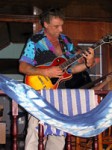 Yo .. yo … it's time for some live music jam session here on Koh Phangan. The jam session last Sunday was done by Mick, the owner of Tranquil Resort, on the lead guitar and vocals. Special guests that night were 'Billy the kid' who was playing these nice groovy bass lines and a female conga player named Fay.
And the really good thing for all live music lovers is that the Sunday Blues will take place every Sunday at Tranquil Resort. So everybody out there who can play an instrument – please don't hesitate ! Grab your favorite instrument, jump on your motorbike and join the Sunday Blues Session at Tranquil Resort. The live music normally starts about 9 p.m. and everybody is welcome to join 🙂 For more information please call 077-377433 and ask for Mick.
For all those who fancy a real British Sunday Roast Tranquil Resort might be your best choice. They offer Sunday Roast Pork & Chicken with bread and herb stuffing, home made sausage, roast & mashed potatoes, mixed vegetables and a delicious gravy sauce. The whole set costs about 185 Baht or 195 Baht – depends if you decide for pork or chicken.
The best German beer called 'Hefeweizen' is also available there in two different blends light & dark. You could go for an 'Erdinger' or just try the 'Weihenstephan' which is actually produced by the monks from a German monastery in Bavaria and is still my favorite 🙂
So … looks like that Tranquil Resort has the perfect setup for a nice and enjoyable Sunday night. Tranquil Resort is located at the west coast close to the main town Thongsala. At the main crossing in Thongsala with the Krung Thai Bank to the right just turn left and follow the road to the west coast. Look out for the 'Tranquil Resort' sign at the left side just before the first hill and you're done. So .. see you around next Sunday 🙂