Is Thailand Safe? Tourist Killing At Koh Phangan NYE Celebration Reignites Concerns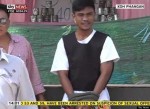 The death of a young British tourist at a New Year's celebration on the resort island of Koh Phangan Tuesday was the latest in a series of crimes against foreigners that have left many wondering if Thailand is squandering its postcard-perfect assets by failing to protect its visitors.
Local police identified the murdered tourist as 22-year-old Stephen Ashton of South London. Ashton allegedly found himself in the middle of a gang-related shootout at a 2013 countdown party at Haad Rin, a popular stretch of beach on the Gulf of Thailand island that's renowned for its full-moon parties.
The Bangkok Post reports that he was shot in the side while dancing on the beach shortly after 3 a.m. on Jan. 1. According to local tourism officials, some 100,000 people were expected to ring in the New Year at Haad Rin.
Ashton's family regretted that he was taken from them under "such cruel and tragic circumstances," but said in a statement that they were "comforted in the thought that he was having a fantastic time with friends after such a difficult period following the loss of his much loved dad who passed away from a brain tumor in 2011 and the loss of his granddad a few months earlier."
Thai police arrested a 26-year-old man identified as Ekkapan Kaewkla in connection with the shooting. Ekkapan has reportedly denied firing the shot that killed the young Brit.
The British Foreign Office updated its advice for Thailand in December, noting that seven British nationals had been murdered in the Southeast Asian nation since 2009. It singled out Koh Phangan as a place where many Western tourists have been victims of "vicious, unprovoked attacks by gangs."
"These attacks are particularly common around the time of the full-moon parties and generally occur late at night near bars in Haad Rin. Exercise caution when walking in this area at any time, especially after dark," it stated.
The Foreign Office also warned that there have been many incidents of "sexual offence" committed against foreign men and women in several resort areas in the Koh Samui Archipelago, which includes Koh Phangan.
The U.S. Department of State alludes to similar incidents on its country profile for Thailand.
Tuesday's killing raised fresh concerns over the safety of tourists in Koh Phangan, where an influx of visitors has been a double-edged sword for locals. While it's brought wealth to many, others note a dramatic rise in crime over the last decade. Even the official Koh Phangan tourist website claims "violence is frequent."
Thailand has the highest gun ownership rate in all of Asia with 15.6 guns per 100 people. That figure puts it well ahead of Pakistan, the next closest nation in the region with 11.6 guns per 100 residents. Thailand's Justice Ministry believes the number of young people carrying guns has increased 32 percent over the past nine years.
A rash of violence over the last 12 months reignited a debate over gun control. A senator "accidentally" shot his secretary with an Uzi submachine gun at a dinner in October, just one month before a "Gangnam Style" dance-off deteriorated into a violent shootout between two rival gangs.
Tourists, too, fell victim in 2012. Two Canadian sisters were found dead in their bungalow in the Phi Phi Islands in June, believed poisoned. A week later, an Australian travel agent on an industry tour was stabbed to death in a bag-snatch gone wrong in Phuket. More recently, two Russian women were abducted, robbed and raped in Pattaya on Christmas Day.
Motor sport governing body Fédération Internationale de l'Automobile claims Thailand has the highest U.S. tourist road fatality rate in the developing world, after Honduras. Over the New Year holiday alone (Dec. 27 to Jan. 2), the government reported a total of 254 fatalities and 2,454 injuries — most of which were attributed to drunk driving and speeding.
Despite all of this, Thailand appears to be more enticing than ever. Some 19 million foreign visitors flocked to the nation in 2011 to take in its racy nightlife, alluring beaches and spicy cuisine. That figure is expected to surpass 21 million in 2012, led by Chinese, Malaysians, Japanese, Russians and South Koreans.
Many, however, believe the nation must address growing concerns over safety if it wants to maintain the tourism industry's rapid growth.
Foreign Minister Surapong Tovichakchaikul told Bangkok-based news outlet The Nation last week that travelers' safety was the subject of a lengthy discussion in the latest Cabinet meeting. He said authorities will do their best, but called on ordinary citizens to lend a hand.
"Please take care of foreigners. If anything happens to them, please step in to help," Surapong said, urging people not to "hurt Thailand's tourism industry" by ruining the country's image abroad.
With Myanmar opening up and tourism to Vietnam soaring, Thailand faces more regional competition than ever. If the headline-making deaths continue in the coming year, visitors may begin to look elsewhere for the peace and tranquility that was once the hallmark of a trip to "The Land of Smiles."
Original article with friendly support from Mark Johanson – International Business Times