Koh Phangan sailing crew needed for trip to singapore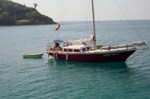 Experienced Captain planning a trip to Singapore departing from Koh Phangan Island July 17-25th 2003. First stop is in Songkhla, South of Thailand for 3 to 4 days to re-supply and prepare for 15 to 20 day cruise to Singapore. Prefer persons with cruising experience, but will teach necessary skills.
If anyone is interested please contact Andy via mobile phone 070586744 or send email to andyorsini13@yahoo.com – thanks!
If you like you can also drop by at the sailing boat at Thongsala pier. Please head to the main pier in Thongsala town, hen turn east / north from the roundabout. When road ends (1km) look left for sailboat mast in the small harbor.
35 foot sloop
World cruising design
Fully equipped kitchen and bathroom
Sleeps 5 people