Pulp – The Juice Bar newly opened in Thongsala Koh Phangan Island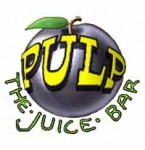 Pulp – The Juice Bar freshly opened on Koh Phangan Island. The healthy juice bar is located in Thongsala town just next door to the Phangan Polyclinic. Pulp Juice Bar offers a special opening promotion for customers who read Koh Phangan's one & only news website!
Try one of our healthy juices and get 30 minutes free internet! Our wholesome and invigorating juices are the ultimate all in one health drinks. Drinking one or two glasses of juice a day will give you all the vitamins and minerals you need – the easy way!