Two British Tourists brutally attacked at Had Rin Beach on Koh Phangan Island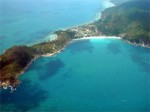 Well … this story might not be up-to-date but Island News Headquarters got contacted quite a few times in the last couple of weeks and so this story needs to be published as a warning to other tourists visiting the island of madness, formerly also known as Koh Phangan Paradise Island.
First Contact:
You say this web page is uncensored. I would like to know if you would run a story on the fact that my daughter and her boyfriend that were nearly killed by a man living there on April 13th 2008. He brutally assaulted them both – they neither knew him nor had even spoken to him. He has not been arrested for the crime and people need to be warned!
Second Contact:
Thank you for your reply. I have forwarded your email onto my daughter who was attacked there. She and her boyfriend were followed and both beaten unconscious for no reason by a resident guy there that they neither knew nor had even spoken to. The guy who attacked them is connected to a local bar there so people need to be warned because next time he will kill someone – we are lucky they are both alive. She will give you all the facts and details and will be in contact with you during the course of the week.
The incident was reported to the local police who have done nothing even though there was an independent resident witness! – it has also been reported to the British Embassy there. I see there is a tourist that went missing on Koh Phangan in February 2008 – there may be a connection who knows?
Third Contact:
My mum got in touch with you last week about an incident involving myself and my boyfriend in Koh Phangan last month. In short, we were assaulted by a guy close to Drop Inn bar following the Songkran celebrations on 13th April 2008. He started attacking my boyfriend for no reason and when I tried to stop him he attacked me too. We were both knocked out so remember little about the attack itself and woke up in hospital being stitched up, but there was a witness who gave us details of the bar it happened outside, and details of the man who attacked us (a Swedish guy who works in a bar called System Bogalet (not 100 per cent sure on spelling) close to Drop Inn bar – although the witness claims not to know the guy's actual name). I was hit twice over the head, had it split open and now have permanent scarring on my forehead from the stitches, and my boyfriend was kicked and punched black and blue, attacked in the knee cap and under his eye (which needed stitching), and his ear was also torn and needed 30 stitches.
I assure you the story is true. We did take photos after the attack which I can send you if need be. We also reported the incident to the police in Thong Sala and have police statements – although our English version is markedly different from their Thai version which we have since found out from the British Embassy translates to read "we had an accident and have come to report it to claim our insurance money" or words to that effect.
Shortly after the attack, my dad posted this onto a travel forum – it will give you more detail on the attack itself. http://www.travelblog.org/Forum/Threads/9832-1.html
I am so angry about the whole thing, not least because the local Koh Phangan Police have shown absolutely no interest in following it up despite us giving them all of the information we did. I know that a lot of stuff goes on on Koh Phangan Island, but I just want people to know about what happened to us because if it makes even one person more cautious when they are out there, it might save them from going through what we have, or much worse.
And here some more info about that brutal incident from one of our undercover field agents from world infamous Had Rin beach.
"Two Swedish guys named Daniel and Marcus who had a bar business in Haadrin called 'System Bogalet' are currently wanted by both Swedish and British Embassies and the Thai Police are looking for them for an unprovoked hammer attack during the week of 13th April 2008 on a couple of British tourists (man and a woman) who apparently required 60 stitches to wounds between them. It is apparently being treated as attempted murder.
Apparently the couple of holidaymakers were simply walking past the bar minding their own business when the crazed attack by Daniel took place. The locals on Koh Phangan are aware that these two guys were dealing drugs and since the attack have gone into hiding somewhere in Thailand.
Marcus is described as in his early 20's and has blonde hair and a gothic tattoo written 'Marcus' across his torso and Daniel is described as tall, Swedish, in his mid twenties but originally from an eastern country such as Russia. Both speak fluent English. The pair also provoked the local Thai community due to their drug dealing and similar attacks on tourists and also an attack on five Thai workers from the Cactus Bar. The two of them have been parading around like they are mafia and had even given themselves Thai names to play on this image.
If you come across either of these individuals then please contact the Thai or British embassies in Bangkok immediately."
So … you've been warned many times before! Be more than cautious when travelling to the island of madness … once known as the hidden Paradise in the Gulf of Thailand … called Koh Phangan!