British diver struck by boat propeller while diving at Koh Tao Island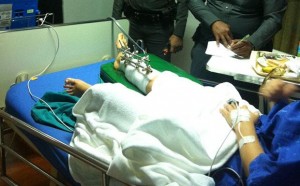 A 20-year-old British woman sustained severe leg injuries when she was struck by a boat's propeller while diving near an island off Koh Phangan district.
The incident occurred on Tuesday evening when Alice Louise Davies was taking part in a diving course at Koh Hin Sam Kon, near Koh Nang Yuan in tambon Koh Tao.
Ms Davies and other tourists taking the Discover Scuba Diving course were reportedly surfacing when a boat carrying diving gear entered the area. Her right leg was struck by the whirling propeller blades.
Paramedics called to the scene said the British tourist's leg was severely lacerated, with two broken bones, and she had lost a lot of blood. She was given emergency first aid and taken to a hospital on Koh Tao. Ms Davies was later transferred to Thai International Hospital on Koh Samui.
A doctor said she was out of danger, but was being kept in an intensive care unit.
Koh Tao police investigator Pol Lt Col Napa Saenathip identified the boat that hit her as the Thaniya Namchoke and the driver as Boonrod Klubnark.
He quoted Mr Boonroad as saying the accident occurred when he was backing his boat. The propeller first hit underwater rocks and when he backed again the propeller blades struck the tourist in the leg.
Pol Lt Col Napa said Mr Boonrod and his crew worked for Roctopus dive shop on Koh Tao. After the accident they helped Ms Davies and called rescue workers. They did not attempt to flee the scene. Initial media reports said the boat driver sped off after it hit the woman.
It was the second recent accident in the area involving local boat propellers and foreign divers. About six months ago, on Dec 22, a Norwegian female tourist Silji Macdison, 22, died after being struck on the head by the propeller of a boat in the sea off Koh Tao.
Thank you to The Bangkok Post "British diver badly hurt by propellor" which was brought to us by Google Alerts.