Haad Salad Beach Bungalow Resort North-West Coast Koh Phangan Island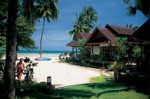 Salad Beach Bungalow Resort welcomes you to your holiday on Koh Pha-Ngan Paradise Island.
The Salad Beach Bungalow Resort is nested on the unspoiled beautiful beach in Had Salad Bay on the northwest coast of Koh Phangan Island. You will stay in our peaceful nature Salad Beach Resort which offers 28 rooms in our luxury hotel and 20 rooms in private bungalows, equipped with air condition or fan, bathroom with hot and cold shower, cable TV, mini-bar, room service and refrigerator.
Enjoy the entertainment at our restaurant serving International and Thai food all day long. The daily choice of fresh seafood is a tantalizing selection of everything from giant prawns to the locals' favorite of Mackerel steak.
We hope to offer you a memorable holiday by joining our tours to some of the most attractive places around Koh Pha-Ngan like the Angthong Marine National Park, Koh Samui and Koh Tao Island and the world famous Koh Nang Yuan Island.
The accommodation at Salad Beach Resort is built and finished to very high standards with a total of fifty rooms; all with air conditioning and view over the sea and stunning tropical gardens. Salad Beach Resort offers the following types of accommodation:
– Hotel Standard
– Hotel Sea View
– Bungalow Garden Wing
– Bungalow Pool View
– Bungalow Sea View Twin
– Bungalow Beach Front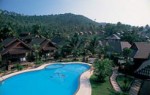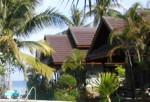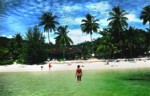 Haad Salad Beach Resort is situated on the west coast of Koh Phangan in between Haad Yao and Mae Haad Beach. It is about 15 minutes drive from the main port of Thong Sala on a newly completed concrete road network. Haad Salad bay can also be accessed from the north via Chaloklum, a local fishing village. Car and boat taxis regularly go to Haad Salad from Thong Sala and it can also be reached by boat taxi from Chaloklum pier.
Our services include:
– Open Air Restaurant on the beach
– Swimming pool
– Beautiful tropical gardens
– Waterfall Jacuzzi
– Internet Access
– Laundry Service
– Motorbike and Jeep rentals
– Mini Market
– Fax and Oversea Call
– Diving School
– Massage and Spa
– Transfer Service
– Boat for Fishing and Snorkeling trips
– kayaking and more
For more details please visit the website of Koh Phangan Salad Beach Resort or just send your inquiry to info@phangan-saladbeachresort.com
Salad Beach Resort
Haad Salad
84280 Koh Phangan
Surat Thani / Thailand
Phone:
+66(0)77-349 149
+66(0)77-349 274-5
+66(0)77 377 015
+66(0)77 238242
Fax:
+66(0)77-238242
+66(0)77-349275