L'Embuscade Restaurant Francaise in Thongsala on the Island of Koh Phangan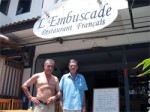 Bonjour … common ca va? Mon nom est Becki and today I would like to introduce you to the tasteful world of two French monsieurs named Philip and Nico from the French Restaurant L'Embuscade here on Koh Pha-Ngan, the island of madness, in the Gulf of Thailand.
The Restaurant Francaise L'Embuscade first opened about 6 months ago and is run and managed by monsieur Philip. He originally comes from Cannes, a city in the South of France, famous for its delicious and mouthwatering French specialties. Philip also is a certified chef with many years of experience in Switzerland.
After a few times holiday in Thailand over the last 6 years Philip finally realized that the French government actually charged him far too much tax on his monthly income. Therefore he decided to say au revoir to the French tax system and finally moved over to a far better place on the other site of the globe, called Koh Phangan, also well known as the island of madness.
Philip offers every day new specialities francaise, menus and a la carte dishes with an emphasis on good and always fresh ingredients. Some examples from today's menu would be Filet Mignon de Porc, Blanquette de Poulet or even some Magre de Canard which sounds lovely but actually Becki has no idea what this means as my French is not that liquid. And to be honest Becki hasn't tried any of the French specialities from chef Philip yet, but I promise to do so and will keep you updated!
Our next monsieur de France is called Nico and he sure is a nice and relaxed French man. Nico also comes from Cannes in the South of France but has spent the last 11 years here on Koh Phangan Paradise Island actually … well … not doing that much at all … just enjoying life! What a wise decision 🙂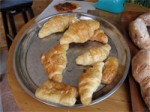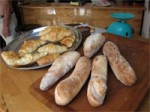 Nico is responsible for every day fresh french croissants & chocolate croissants, French Country style bread and delicious slices of pizza at L'Embuscade. All of Nico's baking skills are self taught and Becki has to admit that he's doing a really great job! Becki personally loves the French croissants and in my opinion just the best ones you can find on the island. Thin layers of buttery dough with lots and lots of air in between … just like it's supposed to be!
Then the French Country Style Bread … it's just awesome! Crispy wheat flower bread with a thick crust … dark baked and just fucxxxx delicious! Also tried the slices of pizza this morning and sadly … nothing to criticize … just tastes really good.
So finally Becki has decide to give a two thumbs up for our French monsieurs Philip and Nico from the Restaurant Francaise L'Embuscade. Keep up the good work you're doing monsieurs 😉
The L'Embuscade Restaurant is located in Thongsala main village on the Post Office road just next to the old Meeting Point. If you somehow get lost or have a mental breakdown then just dial 0870610116 and ask for French monsieur Philip or Nico so they can guide your way.
And as we live in the land of the cheap charlies a price orientation might also be useful. Croissant & Chocolate Croissant 35 THB, French Country Style Bread 35-40 THB, Slice of Pizza 50-80 THB, Daily French Specials 100-350 THB
Have fun & au revoir 😉