Koh Phangan White Azure – Eco friendly Villa Rental near Thansadet Beach on Koh Phangan Island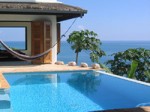 Koh Phangan White Azure is a contemporary eco friendly villa located in the Gulf of Thailand on the east coast of the island of Koh Phangan.
The 4 bedroom 4 bathroom villa with swimming pool and jacuzzi suitable for up to 8 people, is set within the lush jungle of Than Sadet overlooking the sea and bay, 300 meters from Than Sadet's sandy beaches and National Park. The house has been designed to be as open plan as possible to maximize views from all rooms and to take full advantage of the cooling sea breezes.
The villa is set within 2200 metres of tropical jungle gardens leading down to it's own small private sandy beach area set amongst the granite rocks, with steps leading directly into the sea.
There is also a 2 seater sea kayack available for use, supplied free of charge for our guests. In this you can visit the next beach along Tong Nai Pan, which takes about 30 minutes stopping on the way at Koh Kong which is a tiny island in which you can walk around in less than 10 minutes and offers magical views of Than Sadet and Tong Nai Pan. There is also a great coral reef surrounding this island perfect for snorkelling or fishing.
The villa garden has many mango, papaya, bananas, pineapples, chillies and cashew nuts amongst other tropical plants and flowers and the on site staff will be happy to give to you whatever fruits happen to be in season during your stay. There are a few shaded outside seating areas set within the gardens offering nice sea and jungle views perfect for those romantic moments!
The larger (200 metre) sandy public beach is only 300 metres or a 5 minute walk away where you will find restaurants, boat tours, and other amenities, plus a further more private beach, Tong Reng, which takes about 10 minutes to walk to.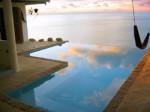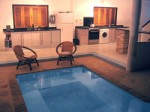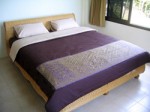 The villa comes with staff that live onsite in a separate house and are there to enhance your holiday experience making sure the pool is clean along with the villa and gardens and to provide added security. There is also a house menu in which inexpensive various mouth watering Thai dishes can be ordered and delivered. A private chauffeur is available as and when required by arrangement. A tour service is also available for nearby elephant trekking, nature tours ect.
Than Sadet waterfall and National park with its shaded rocky pools perfect for freshwater swimming, is only 10 minutes walk away. Within the national park you will find many trails for short jungle walks perfect for observing the local wildlife and flora and fauna as well as some trails offering spectacular views of the surrounding area. A guide service can be provided.
We at White Azure are dedicated to making sure your holiday experience is a rewarding one and with the amount of different facilities available, there should be something for everyone.
For more details please visit the website of Koh Phangan White Azure – thank you!