Hua Laem Bungalow Resort at Hadrin Beach on the Island of Koh Phangan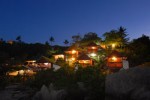 Hua Laem Bungalow Resort Hadrin Beach Koh Phangan with the Norwegian / Thai couple Tom and Tik welcome you to a relaxing stay in our jungle-garden with flowers, fruit, birds and sometimes animals like monkeys and iguanas.
And if you come for the famous Full Moon Party, you are just 10 minutes easy walk away from the party beach called Had Rin Beach. We can provide you with a lot of information about Koh Phangan Island, things to do, where to go, and also things to be aware of. Together we speak or understand Thai, Scandinavian, English and German. We hope to see you soon!
Hua Laem Resort has for more than 14 years provided travellers with simple affordable accommodation on Koh Phangan. Set in a rough jungle-garden, in the hillside just 10 min. walk from Haad Rin beach and over-looking the full-moon party-beach, you will find us. All bungalows have a stunning view over the Gulf of Thailand and the sun-rise, 'the window into your paradise … !'.
We like to give our guests a possibility for a tranquil and relaxed stay, and a distance to the party zone in Haad Rin beach: You can relax when you want to, and still not being too far when you want to join the crowd.
All our bungalows come with a hammock where it is easy just to stay and listen to the sound of the waves, the birds, may be read a good book or simply relax and feel the good sea breeze.
If you bring your laptop, you can enjoy wireless 2Mbit connection in all our bungalows for a reasonable price, or rent use of internet from our computer in the restaurant. Motorbike-rental available from one of our partners, and we have recommendations for travel agency and diving-courses.
From our rocky beach you can swim and do snorkelling. (Equipment can bee borrowed) You will always see a lot of small fish, and even discover some small corrals. Some fishing and BBQ equipment is also available. Our restaurant can provide you with a variety of breakfast and Thai dishes and most kind of hot/cold drinks and shakes.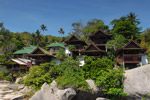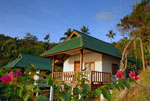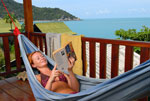 Our bungalows are of different size. All are either beachfront or inn the hillside with stunning view to the sea on the sunrise side of Haad Rin, Koh Phangan. All bungalows have one bedroom, separate shower/toilet, fan, mosquito-net/-windows and balcony with chair, table and hammock. As a standard all bungalows come with a double bed. With extra beds/mattresses our biggest bungalows may have up to 4-5 persons.
Send us an e-mail with your needs and we confirm ability and prices. Our service includes restaurant with a wonderful view to the full moon party beach in Haad Rin and the Thailand Gulf. We serve continental breakfast menu and various Thai-dishes, hot and cold drinks. We also provide laundry service, domestic/international telephone-service, wireless internet access, motorbike-rental. Some snorkelling-equipment and fishing-equipment is also available.
From our restaurant situated in the hillside you have a 180 degrees view from the full-moon party beach on one side trough a wide mountain-area of jungle before there is sea until it meets the horizon out in the Thailand gulf.
With this view and a quiet morning and throughout the day with only the sound of birds and the waves, we can offer you a menu of different continental breakfast-dishes and some delicious Thai-food. We are happy to advice you concerning spice and tastes from the Thai-kitchen.
We also offer you cold drinks, hot drinks, beer and fruit-shakes with fruit we often pick from our own garden. If you manage to catch your own fish we are happy to help you BBQ or give you the possibility to make your own food. On request we also offer groups guests that stay with us to make their own menu for a more private celebration of birthday or other happy events.
For more details just visit the web site of Hua Laem Bungalow Resort Hadrin Beach Koh Phangan – Thank You!