Indian tourist killed at Full Moon Party Had Rin Beach on the Island of Koh Phangan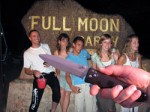 Saturday 22nd March 2008 an Indian tourist was stabbed to death as he tried to break up a fight during the popular Full Moon Party on Had Rin beach at Koh Phangan Party Island in Suratthani province.
According to official sources the English tourist of Indian heritage was trying to break up a fight between local Thais, one of them from the mainland, who also was very badly hurt but did not die.
Another killer incident was earlier reported last year in April 2007 when a 32 year old Israeli tourist was stabbed to death during the Full Moon Party festival at Drop In Club Haadrin Beach on Koh Pha-Ngan Island.
A gang of local Thai teenagers, including the son of a local politician, are the chief suspects in the killing last year April 2007, but so far no progress has been shown by the corrupt local police agents.
Thailand's reputation as a safe destination for tourists suffered another setback with the March 15 murder of Swedish tourist Hannah Charlotte Bankluns, 27, who was stabbed to death while sunbathing in Phuket.
The murders come as a wake-up call for the authorities, who seem to show no concern about the shortage of investment in the tourism industry or the political will to improve the safety of tourists. The tourism industry continues to be the largest earner of foreign exchange and the biggest generator of jobs in Thailand.
Are the local administrative forces finally willing to bring back safety to Koh Phangan Island?
Or will they just equip the tourists with some magic whistles like proposed in Phuket?
What the heck is going on in the land of the smile? Unforgettable?