Israeli tourist killed at the Full Moon Party Had Rin beach on the Island of Koh Phangan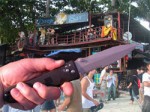 Sunday the 1st of April 2007, just right before the World Famous Full Moon Party at Had Rin Beach Koh Pha-Ngan, an Israeli tourist was knifed and beaten to death by local teenagers in Drop In Bar on the tourist island of Koh Phangan in Surat Thani province.
David Kakitelashvic, 31, was found dead with eight knife wounds to the chest, arm, face and back, and four signs of serious head wounds.
He was lying on the floor of Drop In Bar on Haad Rin beach when police reached the scene at about 2am. Police were told the tourist and four Israeli friends had arrived on the Island of Madness, also well known as Koh Phangan, to participate in the monthly celebration of insanity, formerly known as the Original Full Moon Party.
The Israeli tourists were in the Drop In Bar at Hadrin Beach drinking and dancing when a fight broke out between the Israeli tourists and about five local Thai teenagers in which one of the Israeli tourists was killed, witnesses said.
His assailants reportedly included the son of a local politician. Police will seek arrest warrants for suspects.
Well … Happy Full Moon Party?