Koh Phangan Paradise Island – Don't go if you value your life!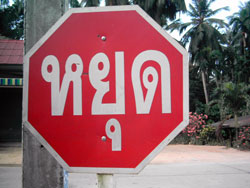 A British man has told British newspaper The Sun how he almost died in a stabbing at the same spot where British tourist Stephen Ashton was shot dead on Koh Phangan on January 1.
Backpacker Nathan Sharpe, 23, was speared by a six-inch blade which tore through his stomach, liver, pancreas and kidneys before grazing his spine, on Koh Phangan Island in May last year, The Sun reported.
The unprovoked attack took place yards from the bar on Koh Phangan where Mr Ashton, 23, was gunned down on New Year's Day.
Mr Ashton was with a group of friends and three hundred other tourists in the 2013 countdown party at the Zoom Bar when he was shot by a home-made gun shortly after 4am, police said.
Mr Sharpe said, "My advice to anyone planning a trip to Koh Phangan is simple — don't go if you value your life. Poor Stephen wasn't as lucky as me," he was quoted as saying.
Surgeons told Mr Sharpe it was a miracle he survived last May's knifing.
"The police seemed more interested in making sure I paid my hospital bill than catching the man who almost killed me. They never told me anything else about the case.
"It wouldn't surprise me if he's still at large," he told The Sun.
Ekkapan Kaewkla, 26, has been charged with killing Mr Ashton.
On January 2, the British Foreign & Commonwealth Office (FCO), the country's foreign ministry, updated its online travel advisory with a strong warning over the possibility of criminal violence against tourists in Thailand, particularly on Koh Samui and neighbouring Koh Phangan.
"Western tourists have been victims of vicious, unprovoked attacks by gangs on Koh Pha Ngan. These attacks are particularly common around the time of the Full Moon parties and generally occur late at night near bars in Haad Rin," the advisory said.
Original article with friendly support from The Phuket News