Koh Phangan airport construction suspended!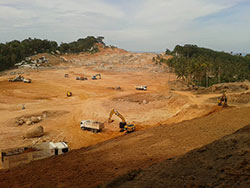 Forestry officials state, Koh Phangan airport encroaches on Than Sadet National Park forest!
The airport construction project on Koh Phangan by commuter carrier Kan Air has trespassed on Than Sadet National Park, Surat Thani deputy governor Ouaychai Innak said on Wednesday.
Mr Ouaychai said an inspection carried out by forestry officials found part of the land on a mountain in Thong Nai Pan bay which had been prepared for the planned airport construction had encroached on Thansadet National Park land. The encroached areas covered about 20 rai.
He said authorities had filed a complaint with police.
Provincial authorities recently ordered Kan Air to suspend the construction of the first airport on the home of the famous full moon parties after receiving a complaint that the project may have encroached on the national park land.
Mr Ouaychai said three working panels have been set up to investigate the matter and officials were now examining the origin and issuance of Nor Sor 3 and Sor Kor 1 land documents given by the company.
Thank you to Bangkok Post "Phangan airport encroaches on forest: officials" which was brought to us by Google Alerts.