Dead body found at Thong Nai Pan Bay on the Island of Koh Phangan!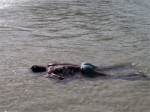 Thong Nai Pan Bay, located in the north east of Koh Phangan Paradise Island. Famous for its breath taking white sandy beach, crystal clear blue water surrounded by mountains covered with lush green forests.
Well … breath taking was also the dead body in those crystal clear blue waters which was discovered and documented by one of our un-corrupted undercover island agents. The unidentified dead Asian body, probably Thai or Burmese, was found last Saturday 11th June 2005.
According to a local Thai woman from Thong Nai Pan Bay, who already discovered the dead body one night earlier, no efforts have been shown by local island police to recover the knifed body out of the ocean. Hours and hours later the local island Rescue Team decided to move into action and finally showed up at Thong Nai Pan beach to offer their rescue services. Great!
So far no more detailed information about the killing has been released by island officials!
Well … how could they? They actually never showed up at the crime scene 🙂 How's that possible? Don't they have a job to do?