Koh Phangan rape suspect involved in string of crimes

A 33-year-old man arrested for raping a young Norwegian woman on Koh Phangan had criminal records in eight cases, including drug offences, said the provincial governor.
Rewat Hansuwan, a 33-year-old native of Khanom district of Nakhon Si Thammarat, was apprehended at a motorcycle repair shop on this tourist island on Monday evening. Police acted on an arrest warrant issued by the Koh Samui provincial court on rape charges.
The suspect, who worked at the shop, had allegedly raped a Norwegian woman, 26, along a road opposite Big C Koh Phangan Supercenter at around 2pm on May 12. He confessed to the crime.
Earlier, the Norwegian woman told police she was looking for a lost wallet after attending a half-moon party in the early hours of Sunday. An Asian man on his motorcycle gave her a ride and volunteered to help her find the wallet. Later he allegedly attacked and raped her.
Surat Thani governor Wichawut Jinto on Tuesday ordered police to prosecute the suspect to the fullest extent of the law because he caused damage to the island's tourism industry.
The governor spoke after he and Surat Thai provincial police chief Pol Maj Gen Apichart Boonsrirot boarded a helicopter to Koh Phangan on Tuesday morning following the arrest of the suspect.
Criminal records showed that Mr Rewat had been freed on April 11 from a prison on nearby Koh Samui after serving time for narcotic offences, said Mr Wichayut.
The suspect later applied for a job at the motorcycle repair shop on Koh Phangan and allegedly used a motorcycle belonging to a customer to commit the offence, added the governor.
Manop Sae Tiew, a tourism business operator on the island, said most criminal offences against tourists were committed by non-residents of the island. He called on concerned agencies and business operators to check personal records of people before hiring them to work or allowing them to stay on the island.
Before the arrest, police investigators were despatched to keep a close watch on Mr Rewat at the motorcycle repair shop after they found he and his motorcycle matched the descriptions of the suspect in surveillance camera footage. The man was seen talking with the Norwegian woman and her male friend before the rape. When the officers saw Mr Rewat ride on the bike as shown in the CCTV, they made the arrest. He allegedly was caught off guard since he was not aware he was under surveillance.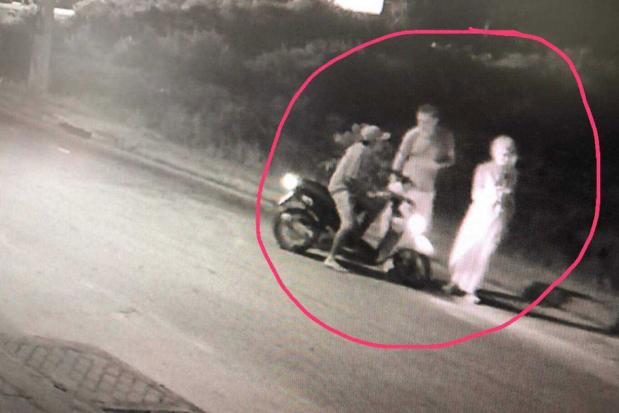 According to police, Mr Rewat allegedly confessed to having raped the tourist. The Norwegian woman was under the care of officials at the Tourist Assistance Centre in Surat Thani.
Pol Lt Gen Pongwut Pongsri, chief of Provincial Police Region 8, said during a media briefing on Tuesday that the suspect confessed due to the evidence which linked him to the crime.
Mr Rewat allegedly told police he rode the bike from the motorcycle repair shop to drink beer at a karaoke shop at around 10pm on May 11. He later left the shop at about 1am on May 12 to have a meal at a nearby shop.
After eating, he rode his motorcycle and saw the Norwegian woman and her male friend along Thong Sala Road at around 2am. He then stopped his bike and asked them what happened. He was told that she was looking for a lost wallet. He volunteered to give her a ride while the male friend left.
"I initially thought the woman agreed to go with me. I rode my bike to take her to my room at the motorcycle repair shop, but she refused to get inside. I then took her to a beach in Thong Sala area where I punched her in the stomach and then raped her. After that, I left her alone in the area and rode back to the shop,'' said Mr Rewat.
Pol Maj Gen Apichart said the eight previous criminal cases the suspect had committed included attempted murder, snatch theft, illegal possession of firearms, taking drugs while driving and other drug offences. Before the rape on Koh Phangan, he was released from a prison on Koh Samui on April 11 for having illicit drugs in his possession.
The suspect was taken for a crime re-enactment amid tight security to prevent violent attacks by angry residents.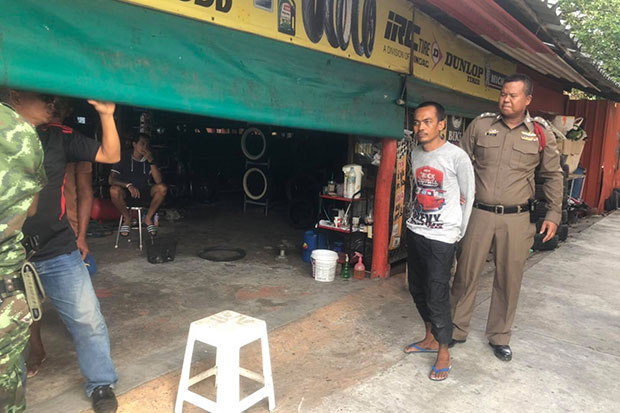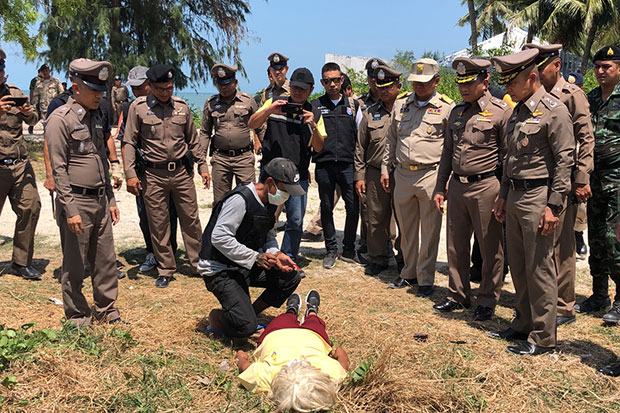 Thank you to Bangkok Post "Governor: Rape suspect involved in string of crimes" which was brought to us by Google Alerts.
Photo credit @ Bangkok Post