Lex Sunset Restaurant Hin Kong Koh Phangan Island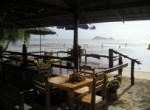 Lex Sunset Restaurant is situated on the west coast road, north of Thong Sala and Wok Tum bay, right on the beautiful beach of Aow Hin Kong (Big Shell beach), Koh Phangan Island .
It is a very friendly, family run restaurant / bar serving, not only a wide range of delicious Thai food and specialties, but also a number of European dishes such as full English Breakfast, New Zealand sirloin steak, duck breast, lamb chops and fish and chips. Fresh fish is almost always available and BBQ's always a pleasure. Generous portions and modest prices help to make this 'a must' to visit on Koh Phangan.
It is the perfect location for enjoying the spectacular sunsets together with friends, delicious food and drinks and great service.
Look out for the very beautiful pair of Indian Tumbler birds in the coconut grove opposite the restaurant.
Open 9am-11pm every day
Mobile: 09 7310508