The Paschke Bar & Restaurant Thongsala Nai Wok Bay Koh Phangan Island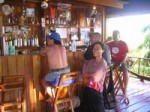 The Paschke Bar & Restaurant, perched above Aow Nai Wok Beach, was built and opened in 2001. It is located at the top of the first hill, on the left-hand side, on your way to Wok Tum bay from Thong Sala. It has a magnificent view of the bay, Thong Sala harbour , Koh Tae Nai island and, in the distance Koh Samui Island.
Come in the morning and enjoy German bread with salami, cheese and more … for breakfast. Come later and sample the delicious Thai food, large portions of Rump steak, Pork chops, German style sausages, homemade meatballs (Frikadellen) with fried potatoes and salad etc.
You will find a wide selection of drinks available, including German Beers and Jagermeister. Whilst you are listening to the 'hand-made' music, enjoy the breeze and watch the boats coming and going at the pier in Tong Sala.
Open from 10am-11pm, Sunday Closed.
Expect a warm welcome and a great atmosphere when you go to visit.
Paschke Bar
Moo 1, 151/3 Thong Sala
Koh Phangan 84280
Surat Thani
Thailand
Mobile: 099908313