Haad Yao Divers opens new dive shop at Haad Chao Phao Koh Phangan Island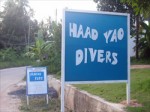 Some couple of days ago I received a personal VIP invitation from Heike and Daniel Frutig who have been really good friends of mine over the last couple of years.
They both run Haad Yao Divers here on Koh Phangan Paradise Island and have somehow decided to dive a bit deeper into the diving industry section here on this island by opening another sub branch at Haad Chao Phao area. So they both organized a great opening party at their new shop at Haad Chao Phao and invited all their good friends to come and join for a night of fun, food, drinks and happiness 🙂 The party started around 7 p.m. and Becki was a bit late like usual but not too late to miss the buffet with those delicious 'frikadellen', a sort of German style flat meat balls.
Then for that special occasion there also was this freshly certified dive master who had to go through this special dive master ritual of drinking one bottle of brown and disgusting looking liquid with a snorkel and mask attached to his face! Well … as far as I found out everybody who gets certified with Haad Yao Divers is somehow forced to participate in that special dive ritual. Also couldn't get any more detailed information about that brown liquid but as far as I can tell the freshly certified dive master had a hell of a good time that night. Later that night he was brought home by friends as his deep dive navigation system seemed to be in some serious trouble – he he he 🙂
Well … it indeed was a great opening party with friends, fun and lots and lots of smiles. So a BIG thank you goes to our hosts Heike & Daniel and hopefully this was not the last opening of one of their sub branches here on Koh Phangan Paradise Island!
Haad Yao Divers new shop is located at Had Chao Phao on the west coast of Koh Phangan just next to the sweet water lake Laem Son. Haad Yao Divers also offers retail of dive equipment like masks, fins, snorkels and whatever stuff a diver might need. Their main head quarters are located at Haad Yao beach on the west coast next to Sandy Bay Bungalows.
If you now feel the sudden urge to dive a bit deeper into this underwater world and become a dive master to finally give this brown liquid a try then don't hesitate and have a look at their website at Haad Yao Divers Koh Phangan Island
And also don't forget to ask them about this special and limited promotion called "Nirvana Diving" 😉
All the very best, have fun and don't forget to breath! Please also check out the picture gallery => Haad Yao Divers Koh Phangan Island