Utopia Bungalow Resort Chaloklum Mae Haad Koh Phangan Island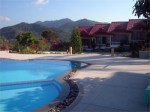 Phangan Utopia Resort is located in the north of Koh Phangan Island between Mae Haad Beach and Chaloklum Bay. Situated on top of the hill at Haad Thong Lang Bay with a fantastic sea view on the gulf of Thailand. Here you are welcome to enjoy the peacefulness and harmony of this favorable resort.
The resort has a wide selection of accommodation available; the cheapest are Classic Thai Style Bungalows with a ceiling fan, while at the other end of the scale are the concrete Modern Rooms all with air-con, hot water, refrigerator, shower, bathtub, cable TV and your personal DVD player.
The accommodation at Phangan Utopia Resort is finished to high standards with a total of 15 constructed rooms and bungalows in a range of styles and prices, all with ensuite bathroom. The emphasis is on quality and style and every effort has been made to ensure the rooms are comfortable, clean, quiet and a pleasure to be in.
There is a choice of two styles of A/C rooms, Utopia Suite and Utopia Deluxe. Both of the air conditioning rooms come with American Breakfast in the morning. All of the resort's A/C rooms have western bathrooms, are fully fitted and furnished and have spacious balconies with stunning views over the Gulf of Thailand and nearby Chaloklum Bay.
There are 4 detached Luxury Suite Thai Style Bungalows tastefully decorated with air conditioning, private bathroom, hot water, bathtub and two single bed; and another 5 Deluxe Mediterranean Rooms just next to the swimming pool with twin or two single beds, air conditioning and private bathroom, bathtub and hot water. The remaining rooms are a fusion of Thai and Mediterranean styles at lower rates for those on a budget. Again the rooms come with a choice of sleeping options, with either double or twin beds available.
Utopia Resort has 3 Classic Thai Style Bungalows all of which have been newly refurbished. All the bungalows have private bathrooms, hot shower, ceiling fan and large open balconies.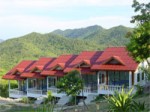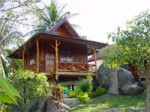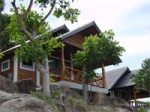 The restaurant at Phangan Utopia Resort has wonderful sea views, serving everything from traditional Thai food to European specialties. There is a wide choice of daily fresh seafood, thai curries, vegetables, sandwiches, salads and Mediterranean foods and the experienced chef and staff always provide a friendly clean and professional service. Our spacious Sea View Terrace restaurant offers excellent authentic Thai & Western cuisine. Come and enjoy our culinary delights from all over the world with a fantastic sea view and light breeze in our relaxing hilltop terrace.
Phangan Utopia prides itself on its modern facilities and high level of service that the resort provides. The swimming pool is one of only a few on the island and is situated next to the sea view terrace with uninterrupted views over nearby Chaloklum Bay and the Gulf of Thailand. There are poolside sun-loungers and umbrellas to cool off under, and tantalizing cocktails, fruit shakes and local beers are available at the restaurant. The friendly and professional staff, modern facilities and well maintained grounds go well with the beautiful natural surroundings, providing the perfect setting for you to relax and unwind in this luxurious paradise.