Once in a Full Moon at Koh Phangan Island – the big boys are coming to town?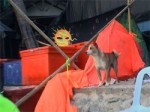 I've been to six FMPs in my time. I love Haad Rin. I'm a travel writer based in the UK and I recently got sent this press release.
Does anyone know anything about it? What do people think? Is it a good thing – bring some order to the growing chaos? Or a bad thing – commercializing an event that is all about a bunch of people just having a good time? Any comments welcome!
If you'd be happy for me to quote you in an article I'm writing here in the UK that would be great. Peace and good times to all.
:: PRESS RELEASE ::
Once In A Full Moon
Haad Rin Beach, Koh Phangan, Thailand A once in a lifetime dance music experience Saturday 23rd April 2005
4pm – 11am next day Suggested donation 100 Baht on entry which goes to Haad Rin beach and Save The Children.
For the first time in history a dance music event to rival parties at destinations such as Ibiza and Goa, is reaching the shore of one of the most beautiful places in the world…. The monthly Full Moon party has gained global recognition as the best beach dance festival in the world. For the last 16 years more than 2 million visitors have partied their butts off at what must be one of dance music's Seven Wonders of the World. Despite their popularity, Full Moon Parties remain a lovable but haphazard affair, with a distinct air of disorganization and improvisation.
Once In A Full Moonis the first time the event will be fully modernized, with 5 huge arenas of internationally renowned DJs including London's own Soulsonic DJ crew and the huge Heat UK collective. Once In A Full Moon will also bring in state of the art sound and lighting equipment, a defined music policy, and a highly sophisticated method of post-party clean-up. Organizers anticipate up to 40,000 revelers, some 30,000 more than the usual number descending on the beach. And it wont all be for nothing…. 28% of the income going back into improving Koh Phangan's facilities, and a partnership with Save The Children ensures a chunk of sponsorship proceeds goes to victims of the recent devastating Asian Tsunami disaster.
DJ line up as follows Main Arena: Commander Tom (Germany); John Thursday (Germany); Leeroy Thornhill (The Prodigy, UK); DJ Hi Fi Princess (USA); Ryan Dent (SA / Netherlands); Futon (Live – Thailand) Ian Betts (Heat UK)
Soulsonic Arena: Stuart Patterson (UK); Terry Farley (UK); Anthony Cox (UK); Matthias Heilbronn (Germany); Leo Elstob (UK); Steve O (Canada) ; Murray Richardson (UK)
Heat UK Arena:Spencer Freeland; Marc French; Steve Blake; Ian Betts;
Mint Bar Arena: Pablo Matinez; FANATIX (Aaron Ross + Neil Pierce) (UK); Chris Samba (UK); Barbara Tucker (Live –USA) ; Robert Owens (Live – USA)
Bed Supper Club Arena: DJ Octo; Fred Jungo (USA); Josh Ezelle (USA); Emanuelle (France); NGL + Simon Bar (Thailand)
LINE UP SUBJECT TO CHANGE