Curfew will curb next Full Moon Party on Koh Phangan Island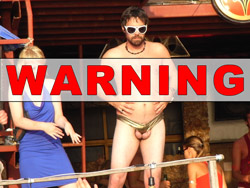 Koh Phangan tourism operators are banking on the army to relax a curfew for the next Full Moon Party with the fun set for June 12 2014.
Wannee Thaipanich, president of the Tourism Promotion Association on Koh Phangan, said on Sunday a letter had been sent by the group to the Surat Thani Army District to allow the party to be held all night.
She said the party date had been set in advance and the curfew could spoil the fun for tourists who planned to visit the island in Koh Phangan district for the party.
"The association is confident that the curfew will be eased for this activity as operators try to revive the tourism industry," Mrs Wannee said.
The entire country is under a curfew from midnight to 4am.
The Full Moon Party is held on Had Rin beach until dawn. It draws tourists directly from other countries and neighbouring Koh Samui Island.
Foreigners hanging out at night on the island have complained about the curfew which is forcing them to return to their hotels early, Mrs Wannee said.
Thank you to Bangkok Post "Curfew will curb next full-moon party" which was brought to us by Google Alerts.