Curfew lifted! Full Moon Party to go ahead on the Island of Koh Phangan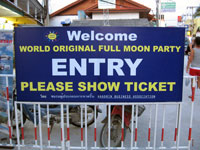 The June 12th Full Moon Party on Koh Phangan Island will go ahead as planned after the Thai army gave the operator the green light.
Koh Phangan acting district chief Kasidet Thongchu was informed by the Surat Thani Army District that the party could be held as this monthly event had nothing to do with politics, demonstrations or activities that might violate the announcement of the National Council for Peace and Order.
The Tourism Promotion Association on Koh Phangan and local hotel operators earlier sent a letter to the Surat Thani Army District seeking the permission to organise the party, whose date had been fixed before the May 22 coup.
Wannee Thaipanich, president of the Tourism Promotion Association on Koh Phangan, said the party organiser had already updated the situation on the internet as many tourists were waiting to hear about the event before confirming their accommodation on the island.
She said Koh Phangan had contributed about seven billion baht to Thailand's tourism revenue each year as at least around 20,000 tourists joined the party each month. The number of visitors rose to around 30,000 a month during the high tourism season and double that during the Christmas and New Year holidays.
The junta has imposed a curfew nationwide from May 22, first during 10pm-5am and then midnight to 4am now. It was lifted in Phuket, Pattaya and Koh Samui on June 3.
Thank you to Bangkok Post "Full Moon Party to go ahead" which was brought to us by Google Alerts.