Phangan villagers surround police station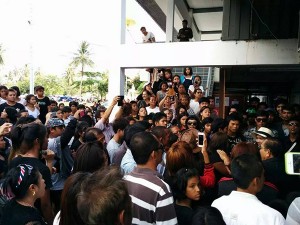 A senior police officer on Koh Phangan in charge of a murder case was transferred on Saturday after a protest over foot-dragging in the investigation.
Surasak Thipparat, deputy chief of the Phangan police station, was moved to the provincial police office under an order signed by Kietpong Khaosamang, the Surat Thani deputy police commander.
Six other lower-ranking officers will be investigated for their alleged involvement in intentionally trying to delay the case and arrest a suspect, who was questioned and released and is now believed to have fled the island.
Pol Lt Col Surasak was in the hot seat after about 500 islanders began camping out at the police station on Thursday with the body of teenager Anond Suksom, who was stabbed to death on Sunday. They vowed to stay put until the officer was moved to clear the way for other investigators to handle the case.
The villagers later decided to end their rally and took the body to a temple for a religious ceremony.
The transfer order came after Pol Maj Gen Kietpong held talks with the protesters on Friday night.
Pranee Suksom and Kanob Yawananon, the parents of the victim, led the rally on Thursday with the coffin bearing their dead son on a pickup truck. They called for a quick investigation into the death of Anond.
The 16-year-old and his friends had gone out to celebrate Songkran but clashed with some local rivals. He was seriously injured after being stabbed and pronounced dead at Phangan hospital.
The police interrogated a suspect identified as Saranyu Kaenkham and later released him, citing insufficient evidence to charge him.
The protesters angrily questioned the decision.
They argued that closed-circuit camera footage in the area should have been enough to arrest Mr Saranyu, an Udon Thani native working on gthe island.
They said the suspect then fled the island.
Pol Lt Col Surasak, the lead investigator, could not be reached for comment.
Pol Lt Col Krairuek Ngamsri-on, deputy superintendent of the station, on Thursday defended the investigation, saying that it was time-consuming to check the footage as the images showed many revellers coming out to celebrate the water festival at the time of the fight.
But an arrest warrant will be issued once officers have gathered sufficient evidence, he added.
Thank you to Bangkok Post "Officer shifted as murder probe drags" which was brought to us by Google Alerts