Koh Phangan Ecstasy MDMA – Drug abuse in moderation?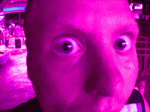 Mitsubishi – Stars – Crown – Heart – Mercedes Benz and whatsoever are the names of those tiny helpers. Regular eaten by many 'full mooners' and party hungry aliens here on Koh Phangan Paradise island.
They come in different colors, shapes and forms and are widely used for brain stimulation and mental research. The right dosage makes you go nuts, start hugging total strangers and develop feelings of being connected with something else. Music transforms into something indescribable and so is your body smell as you start sweating like an idiot!
Overdosed with the chemical ingredient called MDMA you might look a bit similar like on the picture to the left. The current market price for Ecstasy here on Koh Phangan is from 500 – 1000 Thai Baht each pill. Prices are subject to change around full moon party times. Especially during the full moon party night prices can climb up to 1.500 and more. Ask your local drug supplier for best quality and price.
Taken in moderation and proper dosage it can be fun and a major experience! Overdosed with ecstasy is also a major experience and those of you who haven't tried yet …… everything in moderation … 😉