Koh Phangan Full Moon Party – Respect for the buddhist truth?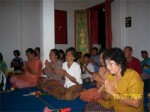 The Lord Buddha was born, obtained enlightenment and passed on to Nirvana all on a full moon day!
At every full moon Buddhist around the world come to temples to participate in a ceremony respecting and acknowledging Lord Buddha. Beyond religion, ceremonies and scriptures it is the Truth of the law of nature. The full moon is not only significant and symbolic, it has tremendous powers.
Scientifically, it changes the tidal currents around the earth due to its magnetic pull, changes the estrogen and testosterone levels in human beings causing the menstrual cycle in females. Influences all animals behaviors and many, many other proven phenomenon. This is evidence of the law of nature in action. It happens every month, has and will for as long as the moon revolves around the earth.
So, when you come to party in this country … remember … there is respect for the full moon for its truth of the law of nature. That is why the Full Moon Party is held a day after the full moon. It's all about respect for the truth!