Koh Phangan Full Moon Party Ticket now being charged on EVERY Tourist – 100 THB only!
Full Moon Party Koh Phangan – since more than 20 years the monthly top event at world infamous Haad Rin beach at the south coast of Koh Pha-Ngan Paradise Island.
After 20 years of being free of entrance charge the Haadrin Business Association finally decided to enforce an original Koh Phangan Full Moon Party Ticket for EVERY tourist arriving at Hadrin beach during the Full Moon Party night.
First incidents of a Koh Phangan Full Moon Party entrance fee, only for tourists arriving from neighboring Koh Samui Island, have been reported back in September 2008 by our un-corrupted team of investigative douche bags from the Koh Phangan Island News headquarters.
A few days prior to the Full Moon Party in December 12th 2008 the Haadrin Business Association published an official statement regarding the Full Moon Party issue to all the resorts on Koh Pha-Ngan Island.
A rough translation of the official statement announces the following:
Because of the massive problems caused by the Full Moon Party, like drug abuse, environmental pollution, security issues and today's society the Haadrin Business Association finally decided to charge a Full Moon Party entrance fee for every tourist.
These problems mainly relate to Haad Rin beach area only and the money from local businesses is currently not enough to cover the costs of fixing these issues. Therefore the Had Rin Business Association unfortunately sees no other way as to charge a 100 THB only entrance fee to every person visiting the world famous Full Moon Party at Haadrin Beach Koh Pha-Ngan.
Every tourist will be issued with a wrist band as proof of paid entry to Haad Rin Beach. The money we collect from the Full Moon Party visitors will help correct these problems and we sincerely apologize for any problems this may cause other Thai businesses on the island and also the tourist.
Prasob Touyjaroun
Head of Haad Rin Business Association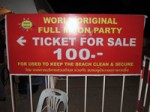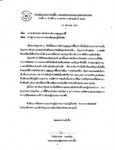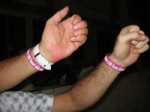 This is of course only a rough translation of the original statement published by the Haadrin Business Association. The full statement can be found here and if anyone can provide a word by word translation then please get in contact with us – thank you!
First observations by our team of un-corrupted reporters at the main entrance gate during the Full Moon Party night December 12th 2008 revealed that only foreign tourists are being charged an Original Full Moon Party Ticket!
Thais don't have to pay and can enter free of charge!
Furthermore a group of German interpreters, working closely together with the Haadrin Business Association, have been spotted help answering any awkward questions asked by the unsuspecting Full Moon Party crowd.
Happy Full Mooning ….
Please check out the picture gallery -> Koh Phangan Full Moon Party Entrance Fee 100 THB only