Do Not Dehydrate! Full Moon Party at Hadrin Beach on Koh Phangan Island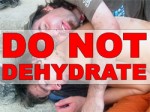 DO NOT DEHYDRATE – A Demented, Chaotic and Awesome Experience!
FMP – Full Moon Party Koh Phangan Paradise Island! The world's biggest beach party and monthly celebration of madness under a bright Full Moon at world famous Party Zone Had Rin. Koh Pha-Ngan's monthly TOP event since more than 20 years with the ever-increasing number of party hungry lifeforms that return, bringing their mates and spreading the vibe throughout the galaxy!
But recent investigations by our international team of outstanding experts revealed the shocking truth! An average of 23% of the party revelers suffer SEVERE DEHYDRATION while partying at the biggest beach party in South East Asia! Party Goers must constantly drink water to cool off. However, many do not realize they are dehydrating and quite often many partiers will, without knowing it, grind their teeth 😉
DEHYDRATION requires your immediate attention! You should let our experienced health care team know at once if you are experiencing dehydration, even if your initial symptoms are mild. Untreated dehydration can lead to a significant loss of fluid and electrolytes (like potassium, magnesium and sodium) from the body. DEHYDRATION can trigger severe side effects, and even become life-threatening! Don't be a moron – contact us!
Partying at the world's most famous Full Moon Party at Haad Rin Beach on the island of madness, called Koh Pha-Ngan, requires your immediate and constant attention! Otherwise things could become a bit rumpy here and you might encounter some unforeseen extras in your FMP package when travelling, e.g. with the very efficient island speed boat transportation service to the local Party Zone.
You also might encounter a real first contact with some of the most bizarre lifeforms the island of madness has to offer! Constantly be aware of Dancing Freakin' Boobs, Giant Tsunamis & Massive Typhoons!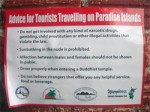 Sometimes even greater opportunities reveal right in front of your eyes and you can watch a real FMP gunfight and some real FMP dead bodies at world famous FMP Beach Haadrin Kho Pha-Ngan! Isn't that AWESOME! So … BE WARNED! Otherwise you might end up in the FMP dead body counter!
Recently the TAT – Tourism Authority of Thailand, Tourism Association of Koh Samui and Phangan Tourist Association published an official advice for tourists travelling on paradise island!
Do not get involved with any kind of narcotic drugs, gambling, child prostitution or any other illegal activities that violate the law!
Do not believe strangers that offer you any helpful service, food or beverage!
Affection between males and females should not be shown in public!
Sunbathing in nude is prohibited!
Dress properly when entering a buddist temple!
Then … even more recently the world famous Full Moon Party Koh Phangan got canceled for the very first time!
DON'T PANIC! BREATHE DEEP! Here it is … A Demented, Chaotic & Awesome Experience! DO NOT DEHYDRATE – An optical & acoustical introduction into the fascinating and colorful world of Phangan's Finest … The Original Full Moon Party! Your Personal Full Moon Party Users Guide! It's wicked … it's awesome … it's FREE! Get your FREE DOWNLOAD today!
DISCLAIMER:
All characters and events in this movie – even those based on real people – are entirely fictional!
Any similarity to actual persons and events is unintentional!
This movie might contain coarse language and due to its content it should not be viewed be anyone!
This video uses the most sophisticated weapon of Simply-O-Brain-Wash-DO-ReBoot-Re-Motely-Techn-O-Logy!
Please use with caution!
This motion picture is not protected under any laws of any United States or whatsoever!
Please fell free to duplicate, distribute or exhibit in any possible way – thank you!