Koh Phangan Full Moon Party Video DVD now available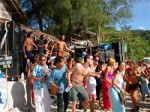 Hi all, great web site you have made, definitely the best about Koh Phangan on the internet!
Even though i have sold my video mostly in Hadrin beach. I thought i had better start on the net, because there must be many people in this world who would like to see there own 'full moon' experience, but missed out because they were not located in Haad Rin, or had to leave straight after.
You just need to deposit 12 US$ for first DVD, and 8 US$ each for additional into my PayPal account at www.paypal.com. Payment is by credit card, so you just have to sign up for your own account with PayPal and enter my e-mail address mkvy@eurobell.co.uk
Sorry about the slight price increase! PayPal takes a chunk, and the postage plus weak US$ currency. 12 US$ includes postage to your address. As soon as i see the credit e-mail me your choice and address and i will post to you.
Available individual DVD's for each month are:
Full moon October 2003, November 2003, December 2003, New year party 2004, January 2004, February 2004, March 2004, April 2004, June 2004, July 2004, August 2004 (2nd august).