Koh Phangan Full Moon Party may attract up to 40.000 party goers in January 2015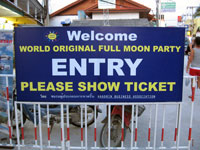 Many foreign tourists have extended their stay on Koh Phangan island in Surat Thani to join the popular Full Moon party, which is expected to draw about 40,000 party-goers on Sunday, a senior tourism officer said on Saturday.
The atmosphere on Hat Rin beach in tambon Ban Tai in Koh Phangan district was lively on Saturday, with tourists, particularly foreigners, sunbathing on the white beach and swimming.
Most foreign visitors opted to extend their stay on the island to participate in the monthly all-night Full Moon party, a dance music festival on the beach, while local New Year revellers started to return to Bangkok and their home provinces.
Wannee Thaipanich, president of the Koh Phangan Tourism Association, said in past years most foreign tourists had often checked out from hotels right after New Year celebrations. But as the Full Moon party falls on Jan 4, many tourists have decided to extend their stay to join the festival, boosting the economy and sustaining the festive mood on the island, said Ms Wannee.
She estimated between 30,000 and 40,000 tourists would join the festival. More tourists from nearby Koh Samui island and other areas have also kept coming to Hat Rin beach.
Surat Thani deputy governor Ouaychai Innak on Saturday held a meeting with concerned agencies to give more emphasis on the safety of tourists joining the Full Moon party. He asked ferry operators not to overload and to require all passengers to wear life jackets.
Thank you to Bangkok Post "Full Moon party may draw 40,000" which was brought to us by Google Alerts.