Narain Restaurant – Indian Vegetarian Cuisine on the Island of Koh Phangan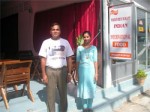 Do you like Indian food? Especially Indian vegetarian cuisine? Then the newly opened Indian Narain restaurant might be the place you've been looking for 🙂
The restaurant has opened since a couple of weeks now and is the first and only place which serves authentic Indian vegetarian cuisine in main town Thongsala on Koh Phangan Paradise Island. The restaurant is run by Hitabilashi Goel and his wife from India and they both know all the secrets about tasteful and delicious Indian cuisine.
Narain Restaurant has specialized in Indian vegetarian cuisine only and is therefore one of the very hard to find places on this island where you can get vegetarian food. Their variety of Indian food starts with Indian Chai, Lassi and various shakes. As appetizers you can choose from Samosa, Chana Bhatura, Tikki or Pakoras. Freshly made Curries, Dal Makhani, Vegetables and Aloo Gobi just to name a few. Biryani is also of course on the menu and not to forget the Indian bread like Roti, Chapati and Naan which you could also order with cheese on top!
All dishes are freshly prepared to fit the customers taste and you just need to tell them if you like it spicy or light. Cheese and Yogurt are home made and guarantee for satisfaction!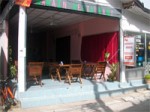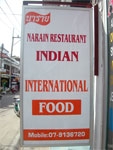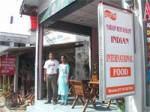 The Narain Restaurant is located next to the Krung Thai Bank in Thongsala town. At the main crossing just follow the road where A's Coffee Shop and Wantana Restaurant are located and then it is on the left hand side – you can't miss it. As far as I know opening time is every day except Wednesday from 10 a.m. until 10 p.m.
For more information please feel free to contact Hitabilashi Goel by mobile phone 07-9136729 or send an email to hitabilashi@sify.com
Wish you a good appetite and enjoy the authentic Indian cuisine 🙂