Dancing Boobs & Full Moon Party Stuff from the island of Koh Phangan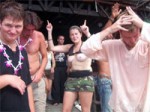 Well … thought it's time again to post another article and tell you the latest news about the Full Moon Party event in June 2004 here on Koh Phangan Paradise (?) Island.
Because of the recent Muslim terror attacks and Thai government massacre in Pattani, the south of Thailand, most foreign embassies have confirmed their terror warnings and declared the southern part of Thailand unsafe for tourists!
But it looks like that at least a couple of thousands of brave tourists have ignored these official warnings and met up again at the world famous Haad Rin beach to celebrate the monthly Full Moon Party event here on Koh Phangan island.
Arrived at the party scene early morning about 8 a.m. and it looked quite a bit empty there. But it's low season here at the moment and therefore you can't expect too much, isn't it?! Tommy's new "Araiwa Production" was playing Trance tunes for a non existent audience and the place was totally empty. Just can't remember when I have seen this the last time!
"The Original Full Moon Party" at Paradise Bungalows was closed already that time and they moved their stuff up to Backyard Club for the after hour party. Zoom Bar was worth visiting and you could find a couple of hundreds party hungry aliens shaking their bodies to hardcore techno vibes played by some local Thai DJ.
Please check out the Picture Gallery => Full Moon Party June 2004 Koh Phangan Island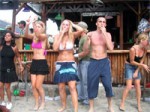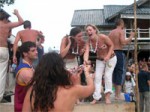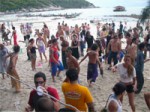 A bit more down the beach we had Cactus Club with still lots of people enjoying the party of their life! One specific "alien chick" really seemed to enjoy the show as she was dancing sort of topless and gave the audience a really close look of their boobs 🙂 It was quite interesting to watch as some of her friends tried to stop her dancing around with her boobs fully exposed to the public. Well …I think it's okay to have fun and enjoy the party but we are here in Asia…. there's a different culture and probably we should show some RESPECT 🙂 What do you think???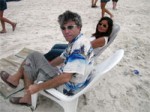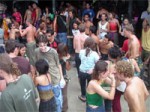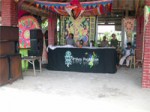 Anyway … the party at the beach was a bit empty and so I decided to have a look at Backyard Club for the after hour party set. Looked like that others made the same decision as I met quite a few people there. The music was again nothing special – sorry DJ Flux – or better to say not my favorite personal taste. The audience also looked a bit tired but it's understandable after a long Full Moon Party night. So the local Thai DJ was mixing some relaxing housy tunes and they all might still dancing there as I write my article now at 12.12 noon 😉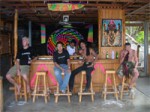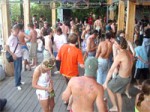 Hoh .. Hoh … hoh … one thing is still to mention about the Backyard Club. One unlucky guy just fell off the veranda while having his after Full Moon Party catnap there. But no worries … he's not injured in anyway and survived his 2.5 meter fall down the veranda 🙂 Would be a good idea if Backyard decides to build a proper balustrade for the veranda to prevent more nasty accidents because this didn't happen for the first time!
So … all you party hungry humans out there ! I think it's really okay to have fun and dance all night long, drink Bacardi Breezer and get a boost. Have some Ecstasy, Acid and even get totally lost in space or whatsoever but just try to remember that all you really need is LOVE 🙂
Happy Full Moon !