Thai government plans 'water fun' for Koh Phangan Full Moon Party!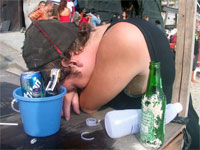 The Ministry of Tourism and Sports will introduce new water sports activities to the Full Moon Party on Koh Phangan in Surat Thani, as well as boosting security.
The party, held every month on Had Rin beach near or on the full moon, draws between 6,000 and 14,000 visitors, mostly Western tourists.
However, Minister Somsak Pureesrisak said on Monday the gathering – normally featuring excessive drinking, dancing and drugs – was not in line with local culture 🙂
Mr Somsak said he wanted to include water sport competitions as part of the party and give prizes to the winners.
These activities will help give the party a different atmosphere for party-goers.
Additional security measures would be provided to help ensure safety for tourists at night.
Mr Somsak said the changes would start next month, at the start of the tourist high season.
Original article at Bangkok Post: 'Water fun' for Full Moon planned