Koh Phangan airport due in 2014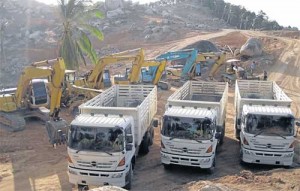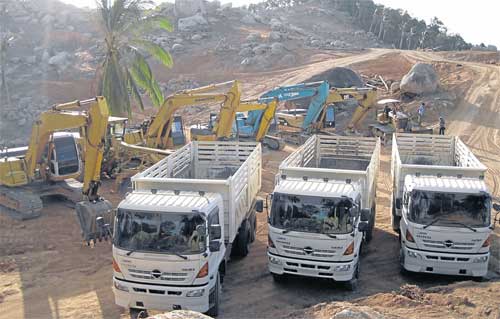 Getting to Koh Phangan will be a lot easier once the home of the world-renowned full-moon party is directly connected by air for the first time.
Construction of the first airport on Thailand's fifth-largest island is gearing up, with entrepreneur Somphong Sooksanguan setting his sights on opening the facility by this time next year.
After spending 200 million baht of his own seed money to develop the country's third privately owned airport, the 46-year-old businessman from Phatthalung province will seek external funding sources and joint-venture partners to expedite the project.
Although saying he could go solo on the venture, he reckons it would be good to have partners whose business concept is compatible with his sustainable business that does not place profitability on top.
Mr Somphong said he is prepared to offer a 30-40% stake in the Phangan airport project, whose ultimate cost was recently revised to 900 million baht, to partners, local, foreign or both, subject to negotiation.
The airport project forms part of the growing aviation-related portfolio of Mr Somphong, who founded the commuter airline Kan Air and more recently became a 51% stakeholder in Thai VietJet Air, the Thai subsidiary of Vietnam's first privately owned no-frills carrier, VietJet Air. He built his fortune on the debt-collecting service of Kannithi Co, which he founded eight years ago.
VietJet Air has already shown keen interest in becoming a joint venture in the Phangan project, he said. It recently dispatched a senior executive to make a field inspection trip to the island.
The Phangan airport, with its 1,100-metre runway, will support the expansion of Kan Air, which now operates scheduled service from Chiang Mai to Nan, Pai, Mae Hong Son, Phitsanulok and Khon Kaen using its sole Cessna Grand Caravan, a single-engine propeller aircraft with 12 seats.
Somphong: Partners are welcomed!
Late last year, Kan Air acquired a Beechcraft Premier I, a US-made corporate jet capable of carrying eight passengers over a range of more than 2,500 kilometres, to complement its air service offering.
The airline will initially use leased turboprop aircraft including the European-made ATR 42, capable of carrying 50 passengers, to herald the air service between Bangkok and Koh Phangan.
Service will start with two daily non-stop flights, taking 80 minutes each way.
The airport project and direct flights to the island are widely seen as offering good business prospects, given the island's growing international fame as a destination and the lack of convenient air access.
Local industry estimates put daily tourist arrivals on Koh Phangan, almost all foreigners, at 2,000 a day.
The full-moon party, a dance music festival on Haad Rin Nok Beach scheduled each month during the full moon, attracts up to 30,000 party-goers who contribute some 10 million baht to the island's economy on that one day alone.
Travellers now reach Koh Phangan only by sea-going ferry from either mainland Surat Thani 55 km away or Koh Samui, Thailand's third-largest island, 15 km away. The closest airport to Koh Phangan is on Koh Samui, where Bangkok Airways operates frequent daily flights linking Bangkok's Suvarnabhumi airport. Nearly all the flights from Bangkok to Koh Samui are operated by Bangkok Airways.
That route has become a cash cow for the 45-year-old airline, which built Koh Samui airport in 1989 and helped to put the island on the world's tourism map.
But Mr Somphong has made it clear that Koh Phangan airport will be open to all carriers, not just Kan Air, as long as their aircraft meet the airport's capacity, which can handle only turboprops the size of the ATR.
Once it is completed and regular service launched, Koh Phangan airport will take away some air traffic from Koh Samui, particularly foreign tourists heading for the full-moon party and those seeking a less crowding alternative to Samui.
Lying north of Koh Samui and two-thirds its size, Koh Phangan has beautiful beaches and less-inexpensive accommodation than its neighbour. Some 190 hotels and resorts offer 5,000 rooms.
Building an airport on hilly terrain 250 metres above sea level poses a significant construction challenge, said Kan Air's site officials. Once completed, the airport will be the country's second highest after the state-run Mae Hong Son airport, which is at 280 metres above sea level.
Some hills need to be flattened and soil removed to fill the lower area to create a more level area conducive to runway construction. Some 1.2 million cubic metres will need to be removed from the 100-rai land once dominated by coconut trees, but this will not stir up protests by villagers, said the officials.
Mr Somphong insists local communities have thrown their full support behind the proposed airport, as they feel the need for air connectivity.
As well, Transport Minister Chadchart Sittipunt is urging that the project be carried out speedily.
Design of the airport's terminal is being refined to make it blend in with the natural environment overlooking the blue sea.
Operating only from dawn to dusk, the airport will have annual capacity of 600,000 passengers or an average of more than 1,600 a day.