Finally! German sourdough bread available on Koh Phangan Island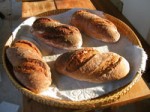 Werner and Monika, from Germany & Switzerland, have chosen to make their favorite holiday island Koh Phangan into their new home. They both decided to open up a small bakery here on Koh Phangan, offering German rye bread in best quality! Also available are fresh cakes, delicious pastries and Sunday specials like a 'Butterzopf', a plaited yeast dough.
Everything is well prepared by Werner our professional master baker from Bavaria in Germany. While Werner is more specialized in rye bread Monika concentrates more in ideas for cakes & pastries and brings with the secret recipes from Switzerland! With temperatures like here in Thailand, it need's experience and the right feeling for the production and processing of the dough. Werner knows it all. Next to the oven it get's really hot – it's almost like going to the Sauna at Wat Pho 🙂
The sourdough bread is done with imported German rye and wheat flour, lots of seeds, sourdough of course, no preservatives nor food coloring! It's tasty, healthy, nutritious and high-fiber. It keeps in the fridge for several days, some people even had it for 2 weeks. If you do like a crust then just toast it. Many like it with butter and cheese, eggs or sausage other with jam, honey or peanut butter. What's your favorite?
Through the high season the bakery is opened every single day from Sunday to Monday! In times of low season fresh bread & other things will be offered 2 times a week on Sunday and Wednesday. If you are planing a B.B.Q. and need to order in advance or you want to try the special 'Butterzopf' on Sunday then just send an email to monischnee@web.de or call 077-377195!
Do you like to give it a try? Just come by, it's not far away and easy to find. The bakery is located in Ban Tai village. Just take a ride from Thong Sala direction Haad Rin beach. Shortly after the 'Petronas' petrol station at the beginning of Ban Tai village, turn right into Dew Shore Bungalows. Just look out for the sign next to the road. We are just to the right of the parking area at Dew Shore Bungalows. So please don't hesitate and just drop by to check out what we have to offer 🙂