Dead Body Count at Full Moon Party Koh Phangan Island in May 2003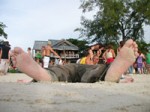 Hello again, all you Full Moon Party hungry aliens out there! Even in times of Prime Minister Thaksin's drug down enforcement campaign the original Full Moon Party at Hadrin beach on Koh Phangan Island is still alive and kicking!
Even the widely spread paranoia about this SARS virus here in S.E.Asia could not stop at least a few thousand party hungry aliens on Koh Phangan Island to celebrate the Full Moon Party in May 2003. This month I just thought to skip the usual stuff and therefore specialize in something i would call the 'Dead Body Count' ! Aehm … of course inspired by the Iraq war and the Iraq body counter i once found at a friends web page!
Well, like everything has its both sides also the original Full Moon Party on Koh Phangan Island might have some unpleasant side effects for some humans on this planet. In some cases I'm really asking myself 'Are they human?!'. To see the 'After Effects' of a very long and intense party night it's best to wear sun glasses of course and walk down the beach early morning just after the sunrise.
And there they are, spread over the whole length of Haad Rin beach, most of them just laying flat there in a sort of embryonic position to restore their body system. To give you an overview of some full moon side effects I will just post the best shots I took that morning. If there's somebody out there who recognizes him or herself and feels offended at being posted on a public web page then please just send me a note and i will remove that picture from our database – thank you!
So, be well prepared for the next Full Moon Party otherwise you will end up here on Phangan Island News 🙂
Please don't forget to have a look in our picture gallery Full Moon Party Koh Phangan May 2003.
Thank you and wish you a nice & relaxing day!