Koh Phangan Island – The Island of Natural Born Killers & Murders?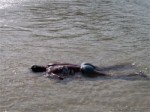 Welcome back to Koh Phangan Paradise Island with its renowned Full Moon Party which has now reached international acclaim. Welcome back to Koh Phangan Island and its beautiful secluded spots awaiting the adventurous traveler around every corner. Welcome back to Koh Phangan Island with its soft white sandy beaches and clear turquoise waters.
Welcome also back to the island of madness and its daily increasing insanity and derangement!
Well … if you read all those fascinating Island magazines from time to time you could eventually really start believing that you actually found some sort of paradise here on planet earth, hidden in the Gulf of Thailand, on a tiny island called Koh Phangan.
But then the other day Becki got struck by a lightning flash of short term memory loss and finally realized that Koh Pha-Ngan Paradise Island is indeed also a very special place when it comes to murders, killings, dead corpses and body remains.
Hmh … how's that, you might ask? Well … to enlighten you with some stunning facts of Becki's personal history I have to reveal that Becki was brought up in a medium sized village in Germany called Wiesentheid. I lived there for about 20 years before relocating to the island of madness, called Koh Pha-Ngan.
Well … as far as I can remember not one single murder case has happened in those 20 years while Becki was living in that village called Wiesentheid. And to finally reconfirm that topic I asked my mum & dad and they both also agreed that they don't know of a single murder incident in our lovely village for the past 30-40 years. Though occasional murder or killing incidents have been reported by local newspapers in our region from time to time, resulting in a very low murder crime rate in our area!
However … when thinking about Koh Phangan Paradise Island and its number of murders and killings over the last 15 years Becki suddenly realized that there is indeed a very high density of humans slaughtering other humans. Just recently we had that case of the Israeli tourist knifed to death at Drop In Bar Hadrin beach by a local Thai youngster who's father happened to be a high local politician. By the way, did anyone ever hear something about that Thai youngster who killed that Israeli Tourist? Was he ever brought to court? Was he finally sentenced, punished or convicted? Well … I don't think so …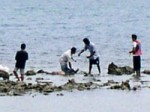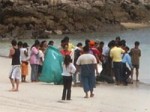 Then from time to time we got those dead Burmese bodies washed up at the shore of Haad Yao Beach or perhaps Thong Nai Pan Beach. Local police undercover agents of course don't give a shit about those dead Burmese corpses …
Also worth mentioning is the local taxi mafia which will punish you with sudden death if you start offering taxi fares from Thongsala to world famous Full Moon Party beach Haad Rin for 40 Baht per person instead of the arranged 50 Baht! Just last year in June 2006 we got a couple of murder cases connected to the local taxi mafia. One taxi driver got killed in his taxi mini bus just right in front the post office in Thongsala while a couple of days later another taxi driver got shot in his mini bus directly at the pier, early morning at the taxi meeting point. Please check out the comments on this article.
Then, of course, there was that world famous gun fight at the even more world famous Full Moon Party at Haad Rin beach in April 2004, where 3 Thais got killed by another local Thai who seemed to have a license to kill, like one of those 007 agents from MI5. At least you never heard anything about that case again. No conviction, no sentence, no punishment, no whatsoever …
In between all those incidents we also got some minor slaughtering rituals because that one Thai guy called that other Thai guys mum a slut and therefore he lost his face and the only solution was to finally get daddy's gun and kill that son of a bitch. Which of course then resulted again in another revenge massacre with more blood and dead body corpses lying around.
Also quite shocking is the very high number of 'natural' dead bodies around the island. Just recently we got that German tourist drowned at the world famous Full Moon Party. Of course not the first time as it also happened in Dec 2005 where two Swedish tourists also drowned at world famous Hadrin beach after participating in the even more world famous Full Moon Party.
Talking about parties we also have to talk about drugs and even there we got another incident in June 2006 where a young Canadian girl and a local Thai overdosed on MDMA at the Half Moon Party close to Ban Tai village, resulting in another 2 dead bodies.
We should also not forget the tragic death of the young British man who drowned in Laem Son Lake on the west coast of Koh Phangan in April 2004. And why should we forget about that horrible speed boat disaster in Jan 2005 where 7 people got killed just because captain Nemo overloaded his speed boat to make some extra bugs?
And to be honest with you guys, there have been many, many more murders and killings in the last couple of years but I just couldn't find the time and effort to publish it on Koh Phangan Island News. Just last month at the Full Moon Party another local Thai got stabbed, at least this is what the island news system of mouth propaganda was announcing.
Speaking of stabbed or knifed bodies … that guy from Ban's Diving just popped up in my mind, who found dead a couple of years ago in his office at Haad Rin beach with 18 knife wounds in his body!
And finally to also tell you some good killer news … Becki thinks we have less killer and murder incidents compared to 10 or 15 years ago! I still can remember those taxi cars from Thong Nai Pan with all those gun holes in it. Imagine how you would feel like being picked up by a taxi car covered with gun holes while you try to enjoy your holiday at one of the top destinations in South East Asia 😉
Anyway … hope not to burst your bubble of island illusions but after all I couldn't help but notice that dead bodies are a more common natural phenomenon here on Koh Phangan Paradise Island as compared to other places on this planet. Also its high density is sort of shocking to me …
If anyone out there still knows some other murder or killer cases about Koh Phangan then please feel free to leave a comment here and report the awful truth – thank you!
And finally we always got those guys telling … uh … Becki … why are you always so negative … try to concentrate more on the good and beautiful things on the island … chill out … lighten up … Becki!
Well … optimism is only a lack of information … eat this 😉
Love to you all!