Koh Phangan Full Moon Party – People die but we're just here to have fun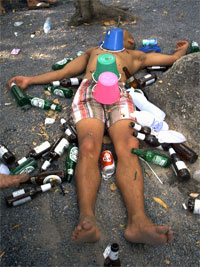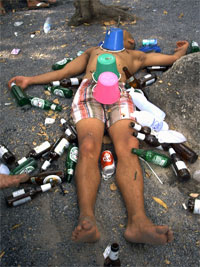 A while ago I got contacted by George Henton, a British freelance news photographer and journalist based in Bangkok.
George was doing a bit of writing about the world infamous Full Moon Party on the Paradise Island of Koh Phangan and so got in contact with me looking for some answers about a few questions.
Actually I think it's quite a shame or better say tragic disaster what Koh Phangan and especially the world infamous Full Moon Party finally has become over the recent years.
But what could we all have expected once the virus of capitalism, money and greed puts its first step on a tiny paradise island and infects most of the people there in a couple of years? Could we have expected anything different?
Just recently Mr. Wichit, the father of Phuket tourism was interviewed and said that Phuket Island is finally spiraling "out of control".
"People's greed has grown, which has resulted in their good-heartedness shriveling and criminality growing."
Could we say the same for the Paradise Island of Koh Phangan? Paradise lost?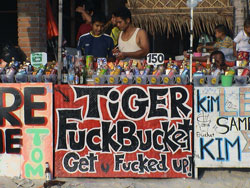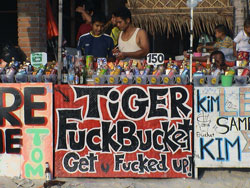 I asked Beckmann if he thought anything would change. "There are millions of tourists flooding in each year to Thailand," he answered. "Who cares about those few cases of people being raped, shot, killed, murdered, drugged, or dying in an accident?" For the island, he added, "It's just a steady flow of income—it has made them rich."
It seems even the current batch of tourists couldn't care less about the darker side. One police officer told me that he had been there the night that Stephen Ashton was killed; when I asked him whether the party had been canceled, he said, "nobody cared," adding, "they just kept on dancing." Indeed, a few hours prior to the party I went to, Alex—an 18-year-old student from Manchester—had told me bluntly, "People die, but we're just here to have fun."
Please read the full article Thailand's Full Moon Parties have been taken over by YOLO idiots and thanks to George Henton, who you can also follow on Twitter @georgehenton