Koh Phangan commercial air service is expected to begin this year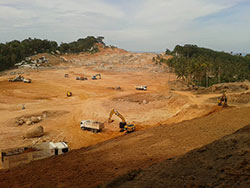 A direct commercial air service to Koh Phangan, home of the famous full moon parties, is expected to begin this year.
It will follow completion of a greenfield airport on Thailand's fifth-largest island and the inauguration of flights by commuter carrier Kan Air.
Somphong Sooksanguan, the airport's investor and Kan Air founder, confirmed the first flight would take place by year-end.
Construction of the airport is 70% complete. The blueprint of the passenger terminal is under way with a conceptual design that blends with the natural tropical environment overlooking the sea.
Construction has already cost 500 million baht, while the outlay could reach 1 billion.
Kan Air will be the first carrier to serve Koh Phangan, with routes linking Bangkok's Suvarnabhumi airport, Chiang Mai, Krabi and Phuket, Mr Somphong told the Bangkok Post.
The airline is acquiring two 70-seat ATR 72 turboprops for the service.
Its expansion envisages the introduction of four new routes as well as a second hub in Bangkok in addition to its original base in Chiang Mai.
The four new routes are Chiang Mai-Ubon Ratchathani, Chiang Mai-Hua Hin, Bangkok-Surin and Bangkok-Mae Sot.
Those will be on top of its six routes to Mae Hong Son, Pai, Chiang Rai, Nan, Khon Kaen and Phitsanulok, all served by its sole aircraft, a single-engine Cessna Grand Caravan 208B propeller with 12 seats.
Koh Phangan airport will be opened for other airlines with aircraft the size of the ATR 72 to operate through it.
Thank you to Bangkok Post "Kan Air eyes Koh Phangan" which was brought to us by Google Alerts.