Full Moon Party Koh Phangan – The worst party in Asia!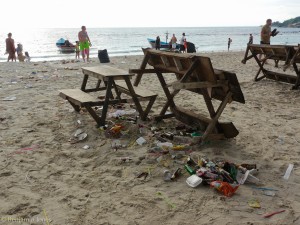 Thailand's Full Moon Party is debauched, depraved, and increasingly deadly. If only it were fun.
"HELLOOO, FULL MOON PARTY!" the touts holler.
Welcome to Koh Phangan… I guess. The host of tuk-tuk drivers and solicitors who await the tourist ferry-load arriving every hour make no mention of the actual island. It's all about the party. Or rather, parties. Every night.
The next greeting is a giant billboard that warns, "MARIJUANA AND MAGIC MUSHROOMS ARE ILLEGAL IN THAILAND." Bottom-right is a photograph intended to terrify anyone fresh off the boat: a white-haired foreigner, eyes blacked out, seated before a bunch of cops. Oddly, one policeman flashes a sinister grin.
Minutes later, our minivan filled with backpackers bounces down the 10-kilometer road toward Haad Rin, where the party happens. Most passengers are carrying coffin-sized luggage and look weary. Where's a copy of the Daily Mail with the latest about some dead Brit? These kids surely need to be warned.
Koh Phangan's Full Moon Party long ago lost its original innocence, devolving into a mess of drunken foreigners cramming onto a once-beautiful beach to celebrate nothing more than the party itself. But in recent years, things have gotten much worse. There have been rapes, fatal accidents, suicides, and gang-related murders. "In the nine months I lived there, one guy I admired hung himself, while another died drunk-driving his motorbike," a former expat told me. Meanwhile, the local environment has been decimated. In fact, one's first taste of the island pleasures that await can be found in the water itself, which glistens with oil and plastic…
This is only a short excerpt of the original article. The full article can be found at RoadsAndKingdoms.com and Slate.com
Thanks a lot to Robert Foyle Hunwick and his ecellent write up, which was brought to us by Google Alerts.