Koh Phangan Puppies need help urgently!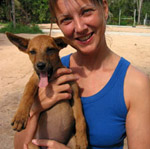 Three lovely puppies are located at Wat Nai Pagoda, first left after Koh Phangan's Biggest Tree, Ban Tai, Koh Phangan Paradise Island.
They have had all their inoculations (Parvo, etc – health passports are held with PAC animal clinic, Ban Tai) and full health checks. They are extremely good natured and lots of fun.Two girls, one boy!
If you cannot give them a good home, they would really appreciate a good meal and some water whenever you can. At this stage they need help to survive. I am returning to England and can no longer provide for them.