Koh Phangan Holistic Conference at Mae Haad Beach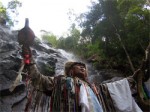 The International Holistic Conference is going strong at Mae Haad Bay Koh Phangan with workshops in many modalities including Sufi dancing, Shamanic sound healing, yoga, Breathwork, Qigong and much more.
Eleven nations were represented at the first Universal Peace Dance and the number increases daily as more people take advantage of the free classes and events.
This conference is the global version of the highly successful InLaKesh Festival where 800 people gathered last summer near St. Petersburg, Russia. Workshops start at 11am, 2 and 7pm everyday at Island View and everyone is welcome to enjoy these gifted teachers. There are also some day long seminars.
Noted Tuvan Shaman and master Throat Singer Nikolay Oorzhak is giving a concert Saturday evening at 8pm at Island View resort, Mae Haad Bay. As Anna from Kiev put it, " It's like a beautiful dream." www.globalpeacefest.com