Haad Rin Beach Committee on Koh Phangan Island increases internet prices by 150%!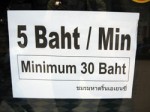 Island officials from the Hadrin Committee recently announced the increase for internet service charges from formerly 1-2 Baht per minute to a final 5 Baht per minute.
This has been the largest growth in price elevation in recent months at world famous Haad Rin beach and might also show negative side effects on the fragile tourism industry on Koh Phangan, island economic specialists stated.
Compared to other places like Thongsala where the internet service charge is still an average of 1-2 Baht per minute, Hadrin Committee has decided for a new policy to protect their rights of interest. The Phangan Had Rin Committee was originally founded by local business associates to compensate for the recent low numbers in the tourism sector and to finally guarantee a strong and stable income if tourist numbers will not increase in the near future.
Local businesses, travel agencies and internet shops have therefore bundled together and agreed on a price fixing system to prevent further damage to the sensitive local economic infrastructure, a Had Rin Committee member public announced.
"This step had to be taken! We are aware of the possible negative impacts but we do our best to keep this delicate situation stable and under our control", another Hadrin Committee member said.
Shortly after the recent Hadrin Committee meeting all members were invited to celebrate a religious ritual at the Buddhist temple in Thongsala to ensure the success of the new agenda.
Any Hadrin Committee associate who disobeys the new agenda and offers prices below the fixed pricing system will be penalized with a fine and furthermore the business will be shut down for approximately 15 working days, a reliable source added.
Another anonymous Hadrin Committee member added, "This new agenda can only be successful if all members of the Had Rin community stick closely together and act as a whole unity. Only then success will be guaranteed!".
After many up and downs in the local price fighting about internet service charges the Phangan Hadrin Committee has finally taken a very unconventional step and hereby has probably become the most expensive internet service provider for the tourism industry throughout the whole nation of Thailand.