Only 654 persons killed over Songkran Festival in Thailand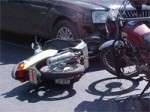 The road toll over the 10-day extended Songkran Festival holiday up to Sunday totaled 654 persons dead. Some 36.642 other motorists were injured over the period from April 9 to 18, according to data released yesterday by the Road Safety "war room".
The number of victims was lower than last year. According to the authorities, 668 people lost their lives and 44.223 others were injured in road accidents between April 10 and 17 last year. Failure to wear helmets and drunk driving were the main causes for the heavy toll, the Road Safety panel said in a press release.
Nakhon Ratchasima in the Northeast witnessed the highest number of road casualties with 36 people killed during the period. Three Muslim dominated provinces in the South – Satun, Narathiwat and Yala – plus Ranong and Phang Nga recorded a clean record with no road deaths during the holiday period. Songkran Festival has become synonymous with road trauma as millions drive home to visit their families and party over the Thai New Year break.
Well … found this article today in The Nation newspaper and thought it's worth posting on Phangan Island News Website 🙂 As far as I've heard nobody got killed here on Koh Phangan during the Songkran Festival Season. There might have been a few accidents …. of course 😉