Sawadee Pee Mai – Songkran Festival 2004 Thongsala Koh Phangan Island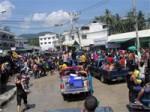 Hello out there 🙂 First of all a Happy New Year again in 2004 and this time it's a Happy Thai New Year!
Lucky as we are here on Koh Phangan we have the rare opportunity to celebrate the New Year Festival three times a year. First the Western New Year in January. Then the Chinese New Year at the end of February and finally in April the Thai New Year, called Songkran. And a couple of hundreds of years ago some smart Thais decided that the 13.th of April is the perfect day to go out and shower all your friends with water and rub them some baby powder in the face.
And even here on Koh Phangan this old Thai tradition from former times remains alive and is still celebrated every year ! Over the last few years more and more "farangs", as they call us, are participating in this yearly water spectacle and they really seem to enjoy this Thai tradition 🙂
It was a very hot 13.th of April and some might have ended up with a sunburn that day as it was sort of raining the whole day and you could easily forget realizing how hot it was. Road block water checkpoints with following baby powder treatment were built in every corner of the island to make sure nobody stays try that day. At least a couple of hundreds of people found their way to Thongsala town to celebrate the Songkran Water Festival this year. The main party was going on along the pier road and I can tell you this is fun every year 🙂 Main important items you should never forget are sunglasses, a water pistol and baby powder. But you will of course also find these things in any tiny shop that day 😉
Please check out the Picture Gallery Songkran Festival 2004 Koh Phangan Island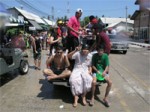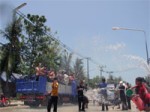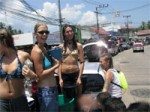 The party in Thongsala was going on the whole day from early morning until the sun set down. Some Thais around Baan Tai area might not have realized that the party was already over as they kept on celebrating even for the next two following days. And I ended up totally wet again after a shopping from Thongsala and was a bit pissed after the third day 🙁
However ….. Happy New Year 🙂