Suratthani authorities discuss banning guns from Koh Phangan Paradise Island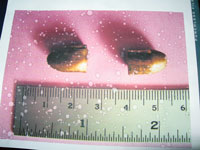 Surat Thani authorities on Thursday held an urgent meeting to discuss the possibility of banning guns from Koh Phangan Island after a British man was caught in the crossfire between two groups of Thai men on New Year's day.
Stephen Ashton, 23, was shot in the side by a stray bullet as he and his friends celebrated the first day of 2013 on the island at about 5am. He succumbed to his injuries at a hospital.
Police have arrested Ekkaphan Kaewkla on charges of murder and being in possession of a gun. The suspect allegedly confessed that he fired his homemade gun killing Ashton accidentally, as he defended himself when a group of Thai men fired at him and his group.
Surat Thani Governor Chatpong Chataraputi chaired the meeting, putting forward the proposal that guns be banned from the world famous Full Moon Party Island Koh Phangan in the south of Thailand.
Ashton was the seventh British tourist killed in Thailand since 2009.
Original article with friendly support from The Nation Thailand