19 years young British man drowned in Laem Son Lake on Koh Phangan Island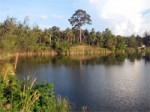 Well …. got really bad news again here on Party Island Koh Phangan. Friday the 23rd of April a 19 years old man from England drowned in the sweet water lake Laem Son at the west coast of Koh Phangan island.
The young British man went swimming at the lake with a couple of friends. Then he somehow got in panic in the middle of the lake and tried to hold on the rope which is tied up from one side of the lake to the other. His friends were trying to rescue him but unfortunately it was too late! So far there's no reason known why he got in panic.
Later on the police and some local divers were called to recover the dead body out the lake. Lots of curious Thai bystanders showed up and one of them even started to sell coke, beer and ice cream on that special occasion – Amazing Thailand I would say 🙁
The Laem Son lake, once used as a zinc mine, is pretty deep with about 20 – 25 meters. After the local divers recovered the dead body their skin started burning and itching and they even had to go for medical treatment. Also the metal parts of the dive equipment changed into brown color and we can only assume that there is something going on down there!